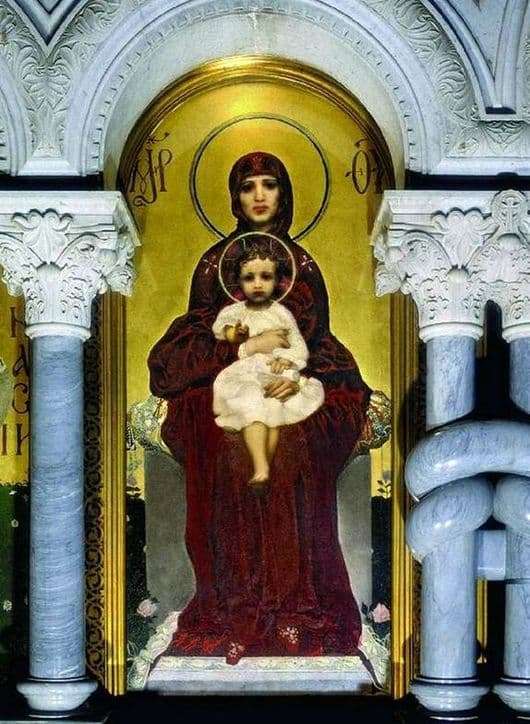 The icon, written back in 1885 by Vrubel, on the one hand corresponds to all the Orthodox canons of iconography, which strictly enough limit the space available to the artist for fantasy, on the other hand, is unusual and original within these limits.
Instead of the almost inanimate faces kept in a single strict style, live human eyes look from it – not suffering, not all-understanding, not grieving, not looking into the very soul and burning it to the bottom, but ordinary. Reminding that Christ with the Virgin Mary is not only God and the Holy Virgin, but also people are at the same time something immensely large and immensely small. In the icon there is usually realism unusual for icons, a hint of some knowledge behind the face of the Virgin Mary.
However, the symbolism of the icon is fully consistent with the statutes. So the throne, on which the Mother of God sits, signifies majesty and royalty (this image was used even in Byzantium, in 11-12 centuries), a scarlet cloak – suffering, blood and greatness.
The three stars gilded on the face of the Mother of God remind us that God is triune – Father, Son and Holy Spirit, and at the same time that before and after, and during Christmas, the Mother of God remained a virgin. On its nimbus are Greek letters – an abbreviation of the words "Mother of God", these letters can be found on any icon. Christ's nimbus is an easily recognizable cross, reminiscent of what fate awaits a baby sitting on the mother's lap. His right hand is folded into a two-fingered – blessing, forgiveness, and tranquility; the left rests on a scroll, which means that God is omniscient.
At the same time, the icon and the picture were invested in it more than they usually put in icons, and it was created by Vrubel at the time when he was an unknown student and hired him for painting just because they were looking for someone who could not be paid. too much.
1200 – for a poor student-artist, who earns money tutoring, it was a lot of money. For the project manager, however, the estimate is too small, for which no one except for the dropout can be hired.