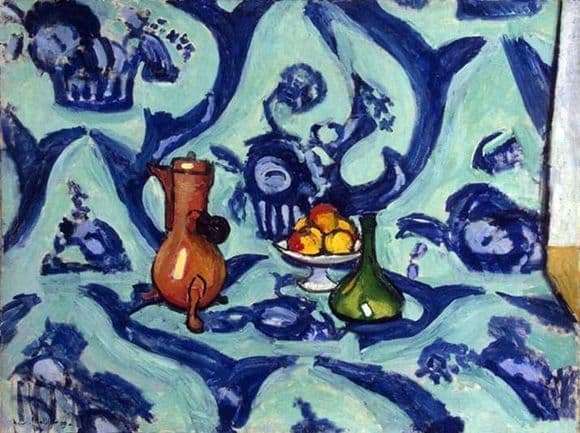 In 1909, the founder and devotee of Fauvism, Henri Matisse, wrote one of his best paintings. "Still life with a blue tablecloth" – the original, complete, harmonious mural.
The composition of the still life is not different subject diversity. From the wall falls on a horizontal hard surface colorful fabric. The pattern is recognizable by other paintings by Matisse. But as a follower of Fauvism, he does not forget to radically change the palette. Here the tablecloth is azure with rich calm blue patches. The multidimensionality of space is poorly marked, allowing you to focus on the overall impression of the painter's transmitted emotions.
There are three small items on the table: a shining transparent decanter of a bright bottle color; very close – a white glass vase filled with ripe fruit; a little distance away – a big brown coffee pot. One feels the artist's emotional attachment to the simple objects depicted. The shown patterned tablecloth is considered his favorite, and the dishes delight us with its curly beauty and reflections of light. The original deviation from classical painting is the lack of objects in the shadow.
Bright contrasts, amazingly rich colors, rhythmic oriental ornament of the fabric – all this is intended to awaken the viewer a sense of richness of life. In difficult times, when the painter had to work, the society especially needed a new joy, hope and rest from everything that was gloomy, oppressive and frightening. Such lifesaving tools turned out to be Matisse's still lifes.
"Still life with a blue tablecloth" gives a state of serene contemplation, children's lightness and purity of perception. The unpretentious pattern of a bluish tablecloth, funny, energetic, indistinct, attracts the viewer's attention and as if reminds us that life is just a game – colorful and joyful.