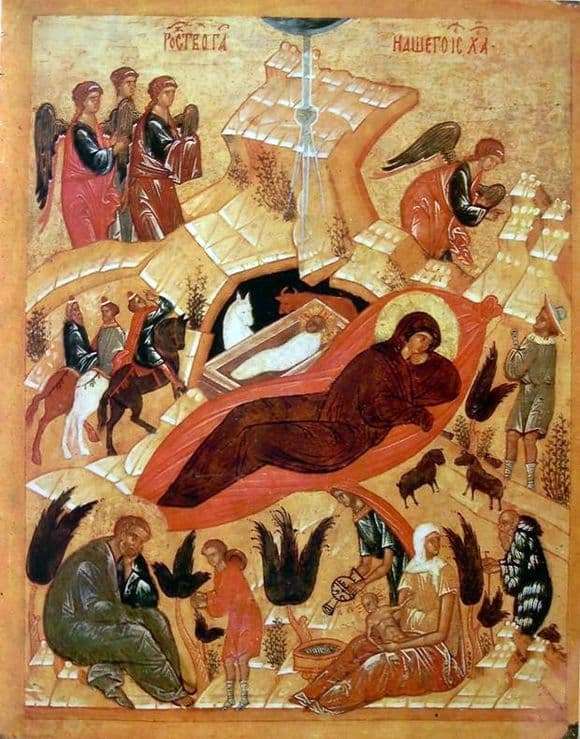 The icon of Rublev "Christmas" was written on a lime chopped board. At present, it can be said that the paint layer of the work is significantly lost, gaps and highlights are noticeable in many places, and the background gold is almost erased. The icon can be seen holes from the nails, filled with wax. Especially a lot of them near the head of a small child in a manger, on the wings of angels.
All events take place against the background of yellow-green mountains. The landscape seems incredibly light and airy. And in the center is the Virgin Mary itself. She is slightly inclined to the right, leaning her head on her hand, she looks somewhere to the side. Her pose seems relaxed, relaxed. The bed in the form as if repeats the smooth outlines of its image. And the scarlet color in the picture is everywhere combined with a dark green grass tint. So two rich colors seem to reinforce each other.
The color scheme of the icon "Christmas" in many respects resembles the tone combinations of the icon "Descent to Hell", where the theme of the festivities is clearly reflected. But still you should not pay much attention to such a coincidence, since the color solutions of each icon are always unique. The bed of Our Lady is decorated with stripes and gold embankment around her head. A little higher, close to the bed of Our Lady, the creches are depicted in gray-green and olive shades.
They contain a newborn baby wrapped in white delicate fabrics. Everything indicates that the birth of this particular baby is the source of joy for all the people depicted on the icon. All the characters are turned to the side of the cradle with the born Christ.