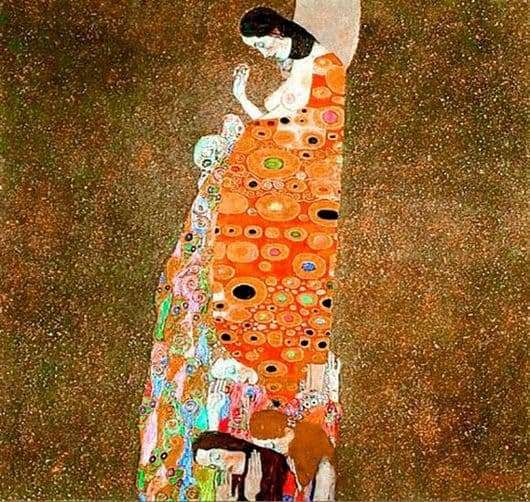 German artist Gustav Klimt was the creator of art nouveau works. The roots come from the group of the Vienna Secession, created by the artist himself. The group was engaged in the publication of works by young painters who painted in unusual styles. The breadth of genres was the main focus in the works of the Vienna Secession. Naturalism, symbolism and realism – styles that existed on the canvases of the creators.
An unusual work of this genre was the painting "Hope", but later a de facto duplicate of a masterpiece entitled "Hope II" appeared. The two works had a common symbolism that reflected the existence of life and death. The work "Hope II" was performed, compared with the previous work, in a slightly different format.
An image of a woman is shown in a sad manner that is reflected on her face. The presence of patterned patterns on the garment of Hope, gives a special look. The face of the girl on the hem of the dress indicates the inner anxiety and worries. Life and death in the picture are present at the same time, without deviating from the correct forms of painting.
The palette of colors is very bright, but the soul of a woman hurts. The artist moves from a joyful image to a sad look. The presence of a skull on the stomach means a barrier to happiness, and makes the viewer think about whether the baby will be born or not. Klimt specifically suggests death, so that everyone can feel the reality of the cruel world.
Criticism of Gustav Klimt has broad views and ambitions. A lot of people know that the artist loved women. This is proved by numerous works with images of young girls.
The models with pleasure posed for the artist, they rejoiced at the presence alone alongside the great painter. Gustav Klimt became an expensive artist, his eccentric style attracted connoisseurs of painting, and found a lot of buyers of his works.