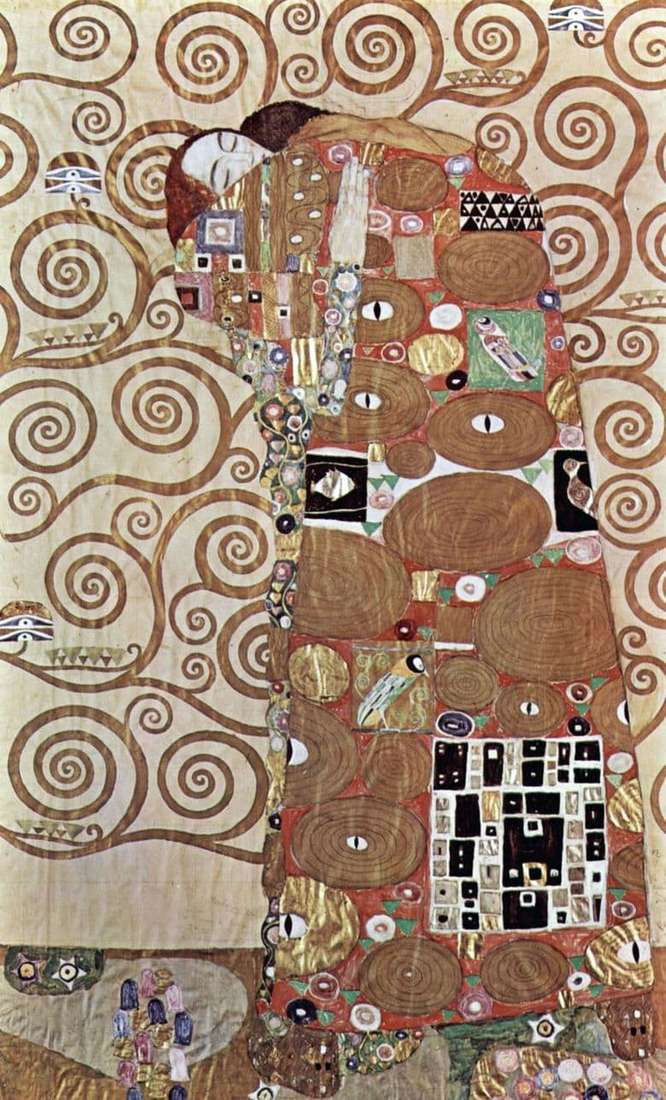 In 1894, the famous Austrian symbolist painter Gustav Klimt was commissioned to create three paintings to decorate the ceiling of the Great Hall of the University of Vienna. The artist showed traditional allegorical images of symbolism in a new style, which was much more frank and sexy, which caused a lot of contradictory reviews.
Public resonance came from all sides – political, aesthetic and religious. As a result, the composition was never shown on the ceiling of the Great Hall. In continuation of the triple paintings, Gustav Klimt creates the so-called "Beethoven Frieze", which was presented at the fourteenth exhibition in Venice, dedicated to the celebration of the birthday of the great composer. The artist assumed a frieze exclusively for the exhibition, and therefore he was painted directly on the walls.
"Embrace" is a theme from the last part of "Beethoven Frieze", the Choir of the Angels of Paradise, and precedes the famous "Kiss". The three pairs are very similar, and the back of the man is turned towards the viewer, protecting the body of the mistress, showing us her enthusiastic face. In all three variants, the man leans so that his head is at the same level as the female.
In Kiss, the artist achieves this by the fact that a woman kneels, and in other paintings Klimt simply makes the male figure higher. All three works are characterized by a contrasting image of a pair of relatively golden background, shown patterned or variegated, which indicates us to ordinary, earthly love.
Klimt contrasted the square or rectangular shape with circles and spirals, which undoubtedly was to illustrate the difference between masculinity and femininity.