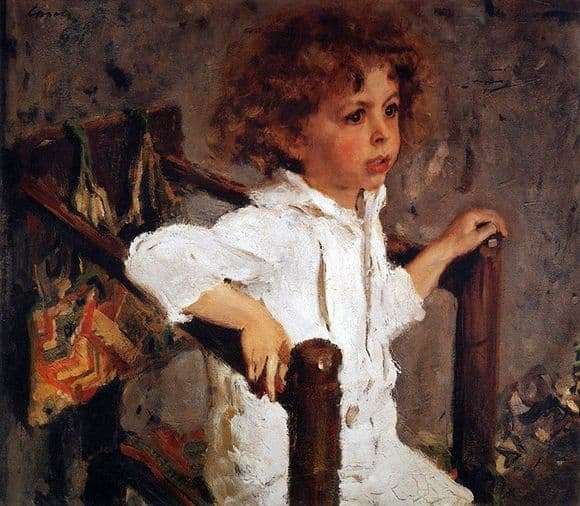 Oil painting by the famous artist Valentin Aleksandrovich Serov cannot fail to attract attention when you walk past her in the exhibition hall of the Tretyakov Gallery, where she has the honor of being exposed.
The artist does not focus on one thing interior. This also applies to the chair, which seems to merge with the wall. And the incomprehensible form of a multi-colored cape on it. The same applies to the general background of the picture.
Everything merges into one continuous gamut, which surrounds the main component – the child. By some miracle, the author succeeds in a certain moment when the boy's facial expression expresses anxious concern. He seemed surprised or even more scared. But at the same time, he is not in a hurry to take his eyes off the object on which his attention has fallen.
You need a special talent to see once, to be able to display it on the canvas in full. After all, it is possible that the child posed for the same grimace the whole process of writing a picture. And given that children are restless, this possibility is completely excluded.
Special attention is paid to the pose of the boy. He seems to want to jump up from a chair, but at the same time he is not completely sure of the correctness of this movement. Chained and at the same time ready for action, he looks at something. In this case, his waist is directed to the left side, which shows the direction chosen by the boy.
If the main part of the interior – the chair turned out to be vague, then the appearance of the child, with all his unobtrusive attire, came out very brightly. Golden curls, wobbling in curls, parted pink lips, black eyes and a gentle blush on his cheeks – all this gives his image a special appeal. And Mika's bright white robe brings the boy closer to something cloudy, soft, that which is characteristic of little angels.