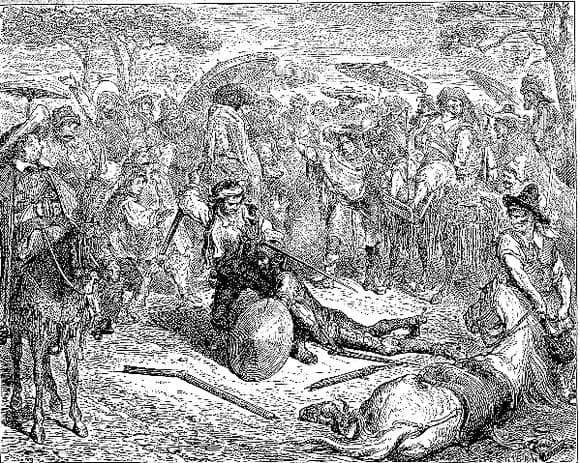 The famous French engraver and illustrator Gustave Dore wrote a lot of illustrations to the famous literary work of Cervantes Don Quixote. But this work is best known.
In the illustrations of Dore, an artistic character is opened to the contemplator of the noble, kind. The main purpose of his life – the destruction of evil. Don Quixote in his illustrations is in a kind of fantasy world, the action takes place in the daytime.
It is worth noting how interestingly the artist applies lighting effects on his engraving. He draws like dark torn spots that create a contrasting group. Despite this, the line, contours of silhouettes are clearly visible. The plot is saturated with a large number of realities, having a Spanish flavor. Despite the fact that the work is not done in color, it seems very bright and saturated.
The illustration shows the dynamism of each movement, which is achieved by a special technique of engraving – small precise strokes, combined with long confident lines. One gets the impression that the artist painted each image in the picture from life. It is not possible to explain otherwise how he was able to achieve such dynamics in one composition. In addition to the main characters on the canvas, you can see curious observers of all the events that crowded around.
Many illustrators took on the artistic accompaniment of this work, but only a few managed to accurately convey all the images, feel each character and organically draw the plot. One of these masters was Gustave Dore.