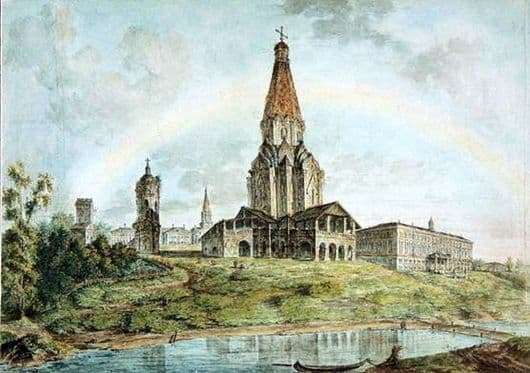 Fyodor Alekseev is a fairly well-known Russian landscape painter and master of the cave (a detailed image of the ordinary, everyday landscape). It is considered the "Russian Canaletto." Known for the creation of such works as "Red Square" (1801), "Orphan's House", "Interior courtyard with a garden. Loggia in Venice.
Kolomenskoye is an equally well-known village near Moscow, which was once the royal residence and patrimony of the Moscow princes. It has a rich history. For example, on the initiative of Vasily III, the famous Ascension Church was built there. Also there stands the Catherine Palace, erected in 1825. It was to the panoramic view of this part of the village of Kolomna that the artist Fyodor Alekseev turned.
The foreground is the river. She is calm, her water is clear. Through it the fragile wooden bridge is thrown. At the shore nearest to the viewer, the boat is tied to a peg, more like a nutshell, no, a sliver from it.
To the left of the river, the viewer notices a small grove, beside which several paths run. To the right is a hill overgrown with bright green grass. Therefore, we can say that the landscape was painted in late spring or early-mid-summer.
Even further – already behind the grove and the clearing – actually stands the Church of the Ascension, the Catherine Palace, others impressive at the same time with their simplicity and grandeur. But they all seem tiny against the background of the tower, which became the center of the background. By the way its peak is crowned with a cross, one can say that this is the very famous church of the Lord's Ascension.
Its majesty on the background of a light blue sky and a whitish rainbow that has almost disappeared should remind not only the talent of the artist who created such an image on the canvas, and the architects who put their hands on its creation, but also the strength and elevation of the human spirit, the possibilities that are open to the human race and to each of us individually.