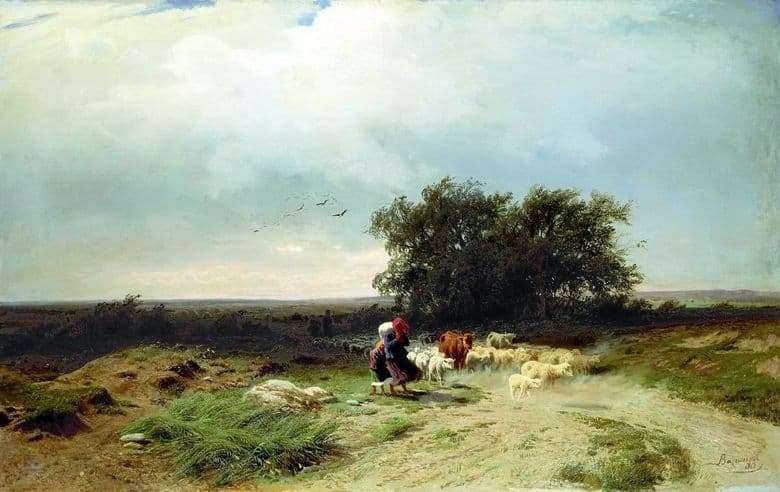 Fedor Alexandrovich Vasilyev – the son of a small postal official, was born in Gatchina. At the age of twelve, the boy worked at the Post Office and received a salary. While studying at the school of arts worked as a restorer. The most important period in the development of the young artist's work was a trip with Valash to I. Shishkin, where his style as a landscape painter was formed. Two years later, he went on a trip along the Volga with I. Repin, from where he returned as a completely independent artist.
However, the life of a talented young man was incredibly short. At the age of twenty, while working on site, the artist caught a bad cold and later developed a cold into tuberculosis. An attempt to go to the Crimea, where the doctors sent Vasilyev, gave nothing – except, of course, bright and interesting pictures of the southern nature. Fedor died at the age of twenty-three, leaving behind a number of remarkable landscapes. At the posthumous exhibition organized by friends, all the paintings and even sketches were sold out before the opening.
The canvas "The Return of the Herd" brought the artist the first prize in the competition, the value of four hundred rubles – at that time it was a lot of money. The painting was immediately bought by P. Tretyakov. In the center of the picture – a flock of sheep, slowly wandering along the dusty road to the house. A woman and a girl in headscarves wander from the side, but they don't accompany the herd – in the depths, in clouds of gray dust, shepherds' figures can be seen in silhouettes. In the foreground – trampled light road and islands of lush green grass.
In the background – dark woods. Painting Vasilyev incredibly voluminous. White stones in the roadside thickets, a tall tree, bending under the gusts of wind, a flock of birds in the high blue sky – the viewer seems to look out the window, and before his eyes rises a picturesque rural landscape. Vasiliev subtly felt the Russian nature and painted it with amazing lyricism and love.