Description of the painting by Fyodor Vasilyev "Wet Meadow"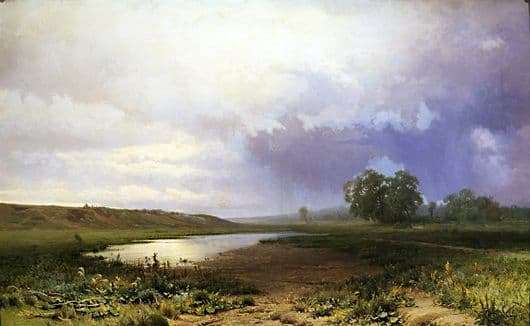 Fedor Vasilyev gained recognition and popularity in wide and narrow circles during his lifetime. The landscapes of the author attract with their sophistication and greatness of nature.
The peculiarity of the work of Fyodor Alexandrovich Vasiliev is to see magic and mystery, power and modesty in an unremarkable landscape. Vasiliev's skill was revealed precisely in those moments when, depicting an ordinary spring meadow, he could convey the fullness of an emerging life.
In the painting "Wet Meadow" the author reveals all the charm and beauty of youth. The canvas is replete with bright green shades, thereby transmitting all the vitality and beauty of spring foliage and flowering. The recent rain has nourished the meadow with life-giving moisture and now it will shine even brighter. After all, nature is never so lively and beautiful as in the period of spring and active growth.
Vasiliev paid particular attention
to the image of the sky after the rain. For the artist, the sky is perhaps the main element of most of his landscapes.
The heavenly space is divided into two parts: on one side the clouds are illuminated by the sun, and the other part of the sky is still filled with purple cumulus clouds. Not clear reflection of clouds can be seen in the water on the meadow, so the clouds are present both in the sky and on the ground. This technique is often used to give integrity to different parts of the picture. The merging of the solar and cloudy sides allows not only to reflect the variability of spring weather, but also to emphasize the opposition of heat and cold.
The picture traces the dynamism of development. Looking at the landscape, it seems as if the clouds will now pass away, and the young meadow will begin to stir from the gusts of a fresh spring breeze.
Vasiliev always felt very subtly the flow of life in its small, everyday manifestations. That is why his work is distinguished by the presence of deep meanings hidden in the ordinary.
There were enough people willing to buy the painting, but they were all overtaken by the famous collector Pavel Tretyakov, who bought the painting before the exhibition began.





(
1
votes, average:
5.00
out of 5)
Description of the painting by Fyodor Vasilyev "Wet Meadow"