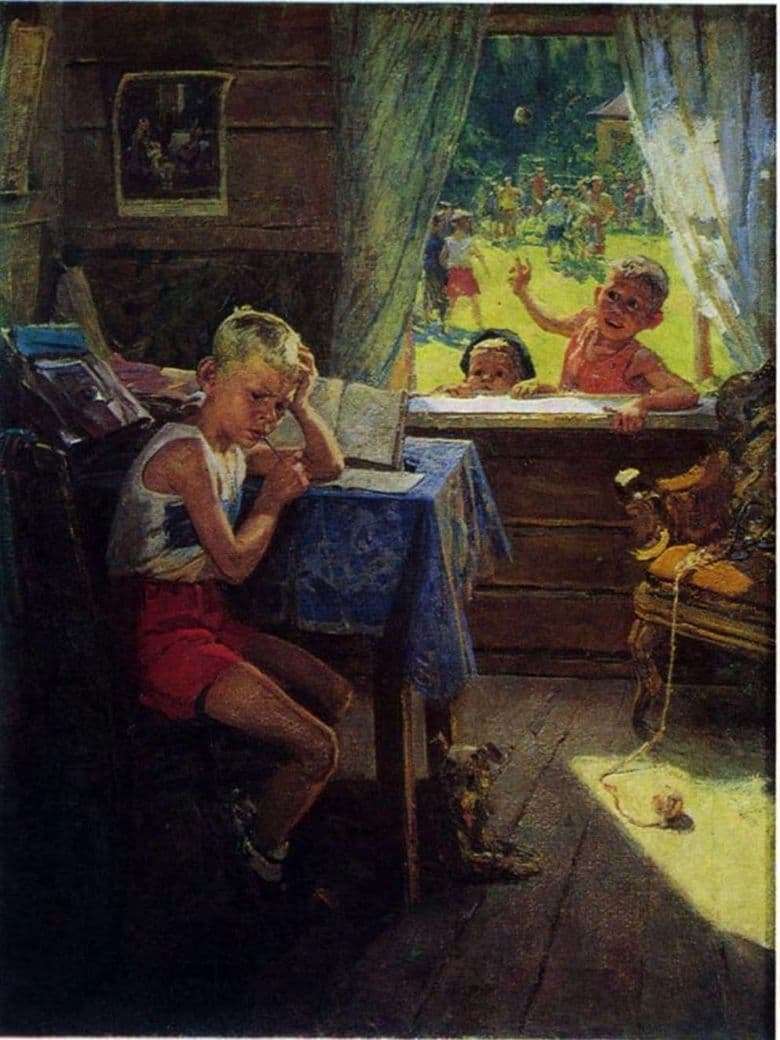 In 1952, Fedor Reshetnikov created the famous painting "Again deuce!", And just two years later, the work "Pereexamination" appeared, which is a continuation of a previously set subject matter – "childhood".
Fedor Reshetnikov was an adherent of social realism, was considered one of the most popular artists of the USSR. At his work "Pereexamination" the situation is familiar to all children. The boy did not study well, received unsatisfactory grades, and his mother put him at home to study.
We see in the picture a room in a dilapidated wooden house. The walls of the house without wallpaper, but decorated with a small poster. In the room we see the table at which the boy is sitting. On the table, covered with a blue tablecloth with a yellow pattern, a complete mess: the books, which originally stood exactly, are now scattered. Before the boy is a notebook, and on the stand is a textbook. The child turned away from his textbooks. He is sad and hurt. He studied badly throughout the school year and did not pay enough attention to the lessons. Now the summer has come, all the children are resting, and he has to learn.
There is a window on the back wall. Thus, the artist has managed to expand the space of the room. Outside the window – summer. Sunny, warm day. Kids running in the yard in light clothes. On girls skirts and T-shirts, boys shorts, panama and t-shirts. Children play with a ball. But they did not forget about their comrade. Two boys ran up and began to look in the window of the house where he was engaged in. The guys call him for a walk. But they are still small and do not understand what school is and the lessons, they just want to have fun.
In the room, near the table, behind which sits a boy, is a chair. We see that on the chair are knitting needles and some knitted thing. A ball of thread fell to the floor. Apparently, for a long time my mother looked at the boy or his grandmother, watched him study. But she went to do housework, leaving the boy unattended. At this point, friends ran at Losers.