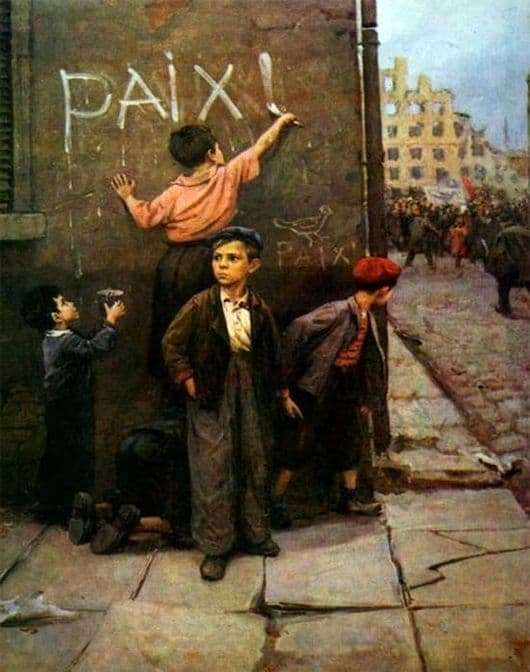 In Reshetnikov's painting "For Peace", one of the most important issues is touched upon – the question of world peace. The picture was painted in the postwar period. The beginning of the 60s, the country is recovering after the Second World War.
Everyone is concerned about the possibility of a new war. Ruin reigns in the world.
Against the background of grief and poverty, devastation and fear, five boys, still very children, are not childishly concerned about these adult problems. They have already experienced the taste of grief, the taste of loss and deprivation. These are children who grew up in fear, constant bombing and worries. When they died and died people.
In the background – a demonstration. At the head of the demonstration are people with red flags – they proclaim socialism. They are also dispersed by the police, since such a procession is completely displeasing to the authorities.
And the problems of adults want to help solve the children. White paint on the wall, having izluchivshis to reach higher, they diligently display the word "Peace". Children who have tasted grief from a young age, although not toys and games, not entertainment and walks – they want PEACE. They need stability, confidence in the future.
And let this inscription does not solve the problems of global scale. But this cohesion and continuity of generations will surely give its positive shoots. It is impossible to change the thinking of the whole world with one inscription painted on the wall. But the belief in the best is all that these children who have been taken away from childhood. They had to grow up too early. They do not want anyone else to experience all that they have experienced.
The picture evokes a spirit of patriotism. Love for his people, love for the Motherland, rises in his soul. And at the same time, there is sadness for those who had to endure these hardships, and grief for untimely departed heroes, defending the bright future of subsequent generations at the cost of their own lives. And this inscription on the wall – thanks to those who fought for the world.