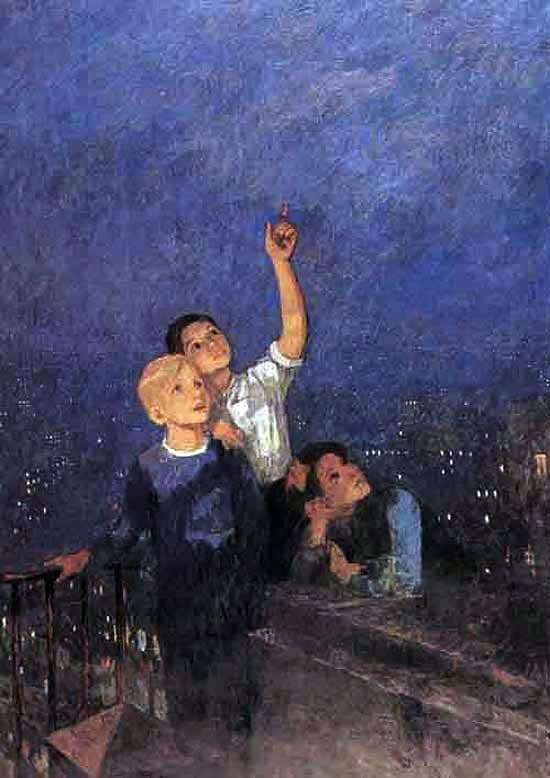 Fedor Pavlovich Reshetnikov – Soviet artist. He is a representative of such a genre as socialist realism, where reality and censorship prevail. Therefore, many pictures of Reshetnikov show the mood not only of the author, but of all epochs in general.
The painting "Boys" was written in 1971. On it we see three boys, who with delight look at the sky. Perhaps they make a wish for a falling star, and perhaps they dream of one day going to space. After all, it was then that the USSR had a "cosmic" mood, which was associated with Gagarin's flight into space.
The picture is made in dark colors. The background – the starry sky is shown to us in a dark blue, purple color. And only three bright spots on the picture. These are the three boys who are the main characters. The boy in the center, shows a finger to the sky. And two other boys enthusiastically, opening their mouths, look up. And how can you not believe that they really saw something there? Be it a star, nebula, or maybe they noticed an unidentified flying object?
One thing is clear – the boys are delighted and surprised, it is clear that they like what they saw. Maybe they tell each other tales about space inhabitants, and maybe they decide that someday they will go to space on a rocket. The author of the picture gives us to understand that the boys have found their dream. After all, only the one who dreams can have his eyes alight.
By the boys' clothes, it is mono to understand that the action takes place in the warm season. And the background tells us that night has come, and the boys went to the roof to admire and discuss their dream. The city falls asleep, and only three boys are awake. They are enthusiastic about their future and their dreams.
Reshetnikov's picture is clear to everyone. And the main idea is to show the desire and excitement not only of boys, but of all the inhabitants of that very time.