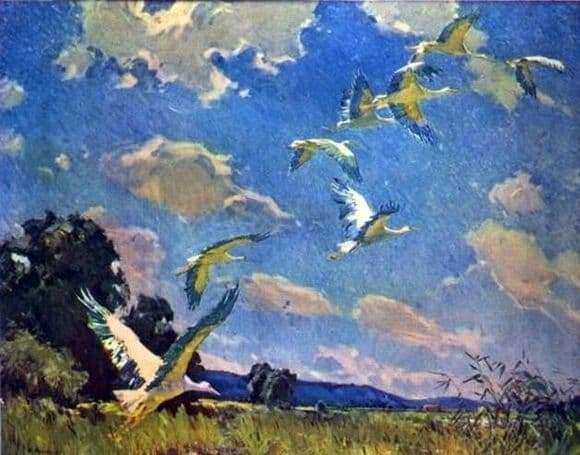 I. Tikhiy in his work "Storks" displayed lightness, a sense of flight and movement. The artist is very profitable conveyed the beauty of nature, it gave boundless. The azure sky is set off by white fragments of clouds.
A hot summer day allows the colors to play even brighter. The landscape beckons with its beauty, and I want to run through the endless expanses, breathe this fresh air with full breasts.
The foreground of the picture fills the space of an unmown meadow. Ripe ears of grass ready for haymaking. Thickets of reeds can be seen, which indicates proximity to the reservoir. It is in such hot weather that birds spend time near the water.
Birds rise up and merge with a bright sky and floating clouds. Birds soar in the expanses of the sky smooth, a feeling of freedom and flight. Storks are displayed on the canvas randomly, as if they were frightened of something and suddenly rose in the sky.
Perhaps someone scared them. It took a long time to create such a picture, because it is very difficult to depict movement. The painter had a long period to observe the behavior of birds, in order to accurately convey all the details.
The picture is made with large strokes, which gives it relief and presence. So I want to run through the tall grass and feel the expanse. This magical feeling of flight and lightness overwhelms the spectator. The sky is alluring and calls for flight.
The birds are beautiful and strong, they easily get off the ground, despite their greatness. The artist very truthfully depicted the bending of the wings, apparently he thoroughly studied the movement of birds, the peculiarity of the position of their body during flight. I. Tikhiy conveyed a unique feeling of lightness and the mystery of flight.
On a magnificent landscape, this action looks even more fascinating. The canvas brings memories from childhood; it is at this time that one can feel absolute freedom, to be free from prejudices, rules and duties, to fly high, into the azure distance.