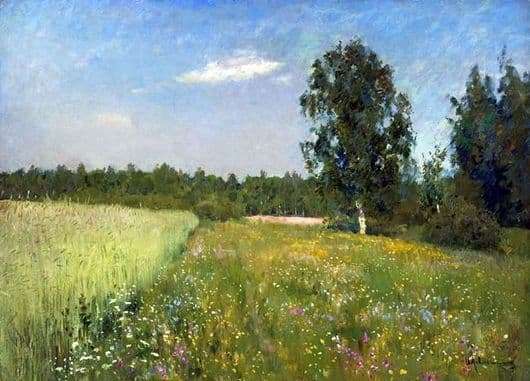 1890
The landscape, depicting a wonderful warm summer day, is painted in oil on canvas. Since the author was very fond of painting the French Impressionists, it could not, will not be reflected in his own work. The painting "June Day" is no exception. However, along with impressionism in the landscape, the mood and compositional structure of the author himself is felt. His own essence, as a lover of landscapes and nature.
The picture depicts a forest strip on the horizon, depicted in rich, bright, rich green tones of various shades. Several trees are located more closely up close. Each of them carefully traced lush crown, which seemed to sway under the breath of the warm summer wind. In the foreground comes the lush green grass with a variety of blossoming tops. Here pink, blue, burgundy, white, yellow and gentle lilac small flowers are organically combined with a dense green carpet of herbs. Looking at this landscape, I want to be there, in that meadow, among pristine nature and endless fields.
Another emphasis in the picture is made on the edge of an uncompressed cornfield with high lush and soft ears. The border between the field and the floral glade with trees is very clearly and structurally shown. Ears are shown very dense and dense thickets, differing in color from all other details of the picture. Light green, very tender with darkening tops, as if they are asking for hands. The whole field as if trembling from the breeze, as indicated by the ears tilted in different directions.
The sky is very clear, painted in a palette of blue shades from lighter to almost blue. The only light cloud organically complements the charm of the sky.
The general view of the picture evokes positive emotions, lightness and a positive attitude. A real piece of summer at any time of the year.