Home

⇒
📌Turner William

⇒
Description of the painting by William Turner "The Last Flight of the Brave Ship"
Description of the painting by William Turner "The Last Flight of the Brave Ship"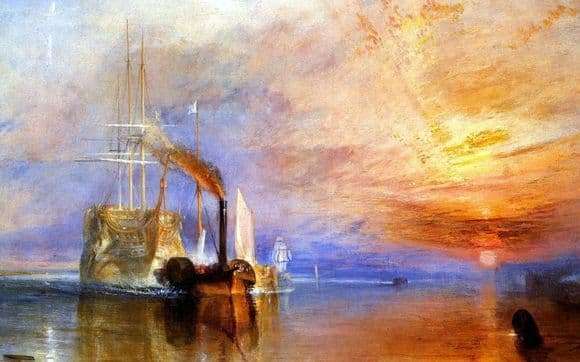 Against the backdrop of fiery clouds from the setting sun, we observe the movement of the veteran of the Battle of Trafalgar – the warship "Brave". A small coal-black self-propelled vessel tows a combat giant to the bank of the Thames, where it will be dismantled. This panel was first presented to the public at the Royal Academy back in 1839. The work of the English painter was instantly recognized as his best work.
Sam Turner very much valued the picture, was so attached to her soul that he would not agree to sell for any money.
The plot of the "Last Flight", most likely, was born in the imagination of the artist, and was not copied from nature. The lyrical and sad image of a dilapidated ship became a sign of the passing era of sailboats and a wise reminder of the perishability of earthly life.
It would seem that the picture is too simple to admire: a banal sunset on the river with boats. But after all, it was written by a great artist who, by the age of 60, creatively rose to the very peak of craftsmanship. The air element occupies the upper half of the canvas, giving it a melancholic sound. The sun blinding at the last minutes of sunset, drizzling rain… In the water element, calm, light breeze slightly touches the mirror smooth surface.
And "Brave" – a huge, faded, smoothly, measured moves, yielding to the tug. He is like a ghost. Above the white flag is visible: there was once a hero and a winner over the Franco-Spanish squadron, the ship surrenders, bravely performing a combat duty.
Bright sunset enhances the effect of the last journey of the old ship. In the story you can see the allegory and read the fate of a man who lived a virtuous life, fulfilled his mission and leaves with dignity.
The artist bequeathed the painting to his native nation, now it is exhibited in the gallery of London.





(
1
votes, average:
5.00
out of 5)
Description of the painting by William Turner "The Last Flight of the Brave Ship"