Home

⇒
📌Turner William

⇒
Description of the painting by William Turner "Modern Rome. Campo Vaccino "
Description of the painting by William Turner "Modern Rome. Campo Vaccino "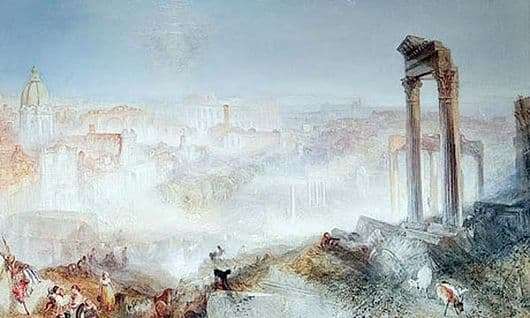 One of the most famous paintings by Turner – Modern Rome – Campo Vaccino, was also one of the last ones created by the artist. This picture is part of a series of landscapes that Turner wrote for almost 20 years. They capture various views of Rome. The picture "Modern Rome" English artist created during his travels in Italy. He wrote this unusual canvas at the height of his creative activity.
It immediately attracts the attention of the public due to the minimum details, as well as a pleasant color scheme. The canvas was the first in the style of writing, which later glorified the artist. This style of writing a picture allows you to talk about the experienced memories of the creator. In his picture, the artist depicted the remains of the Roman Forum, which is also called Kampo Vacchino (which in translation means a pasture for cows). It is dominated by light ton and shades.
Nature is indifferent to people and their great creation – the ancient ruins in the vicinity of Rome. They are just as rotten as a man who is tired of his routine worries. And only the hills on which the ancient city is located, and the living Italian nature remained calm and endless. For the first time, the artist showed his picture to the public at an exhibition held in 1839. Almost immediately the painting was bought by the famous collector Hugh Munro, who became a good friend and patron for the artist. Almost 40 years later, Hannah Rothschild and her husband Archibaldo Primrose, the then Earl of Rosebery, bought the canvas.
The picture was in their private collection of virtually streeti, after which the owners gave it to the storage of the National Gallery of Scotland.





(
1
votes, average:
5.00
out of 5)
Description of the painting by William Turner "Modern Rome. Campo Vaccino "