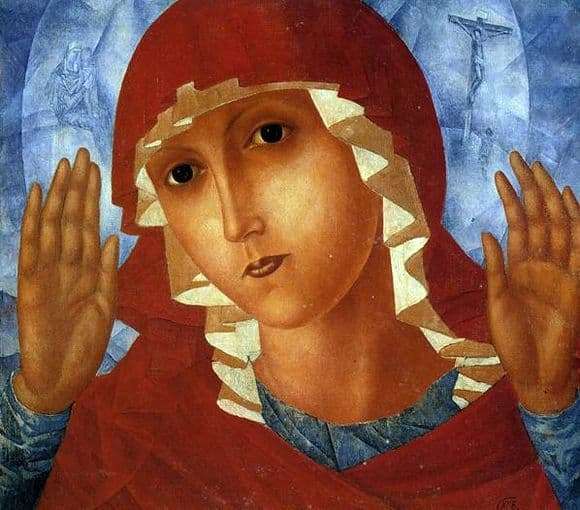 Kuzma Sergeevich Petrov-Vodkin, without a doubt, is one of the most famous artists. This Soviet and Russian painter made a great contribution to the development of graphics, painting and pedagogy. In 1930, Petrov-Vodkin is recognized as an Honored Artist. Many foreign creators influenced his canvases. The paintings of the artist bear the imprint of modernity and symbolism. Throughout his life, Kuzma Sergeevich created many portraits, still lifes and thematic works.
The artist gained a weighty experience of religious images earlier during the painting of the walls of the church at the Orthopedic Institute in St. Petersburg. Then the master took part in decorating the walls of the cathedral, located in Kronstadt. The temple in the Sumy is also painted with his hand. Church activity influenced the perception of Petrov-Vodkin. In 1915, he completed the work on the image of the Mother of God in the form of a simple peasant woman who is breast-feeding her child. The canvas was called "Mother".
The "Mother of God of the Wicked Hearts" was created by the author during the First World War in 1915. Her name echoes the concept of icon painting of the Russian Orthodox Church "Softener of evil hearts." The canvas bears the imprint of tragic events for the country and people of wartime. Despite its relatively small size, the painting is a monumental example of painting. The Mother of God on the canvas covered her head with a red scarf. Her palms carry comfort and blessings.
In the left part of the picture there is a silhouette of the Virgin with the baby. On the right is Jesus Christ on a crucifix. Alarmed, tremulous, compassionate image – one of the strongest of these masterpieces, affecting the emotions and feelings of the viewer.