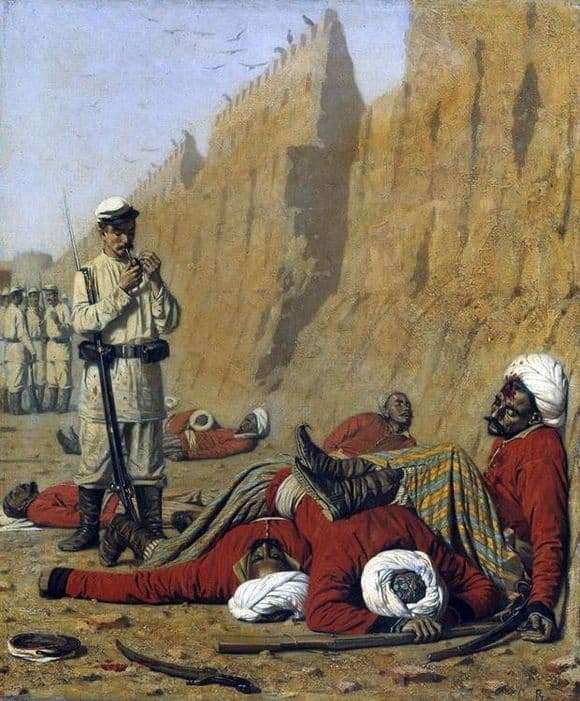 Vasily Vereshchagin loved to travel, and almost all the time he was traveling. During his life he managed to visit several dozen countries. Among them are the USA, and China, and many regions of the Caucasus and Transcaucasia. However, 2 trips to Turkestan played a special role in his work.
It was the memories of the terrible war in Samarkand that became food for the brain and the inspiration for the artist's work. In the period from 1867 to 1870, he made his first arrival in the country. Then the masterpiece "After Failure", dated 1868, came out from under the artist's brush. The appearance of the picture coincided with the exacerbation of the military-political situation in the region. It was then that large-scale military operations took place, aiming at the annexation of Asian territories to Russia. This was the reason for the struggle of local residents with Russian soldiers.
For the full coverage of the events of that time, Vereshchagin wrote the second double painting "After Good Luck" to the "After Failure" canvas. Both masterpieces described the events of the "holy war" on both sides. The works depicted the brutal and bloody side of the battle for each belligerent state.
The plot is plain but eloquent. In the background is a fortress wall. Ravens hover over her – a symbolic image of death. In the foreground are the dead bodies of the Bukharians. Next to them, Russian wars communicate peacefully. One does not smoke at all alongside the dead.
The canvas condemns such soulless behavior of soldiers, completely denying the usual image of noble warriors-winners. The picture sounds dumb reproach of bloodshed and the silent calm of the murderers.