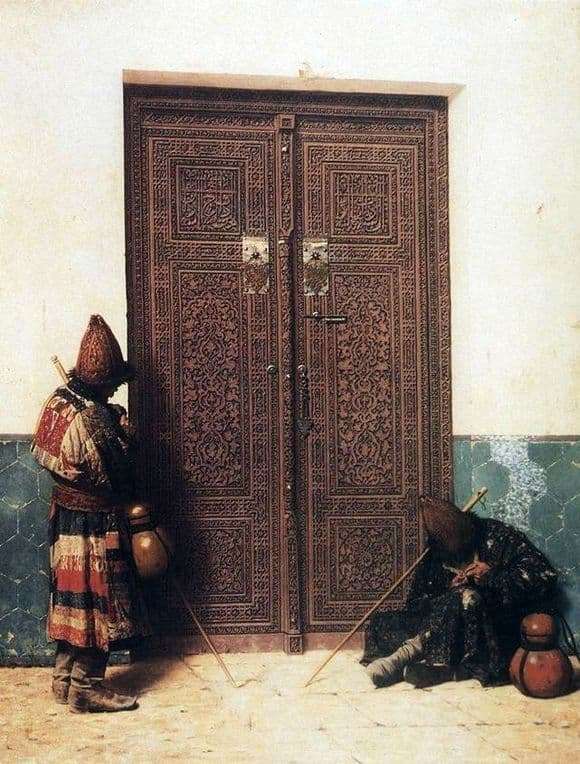 Vasily Vasilyevich Vereshchagin is a famous Russian artist who painted his paintings in the battle genre with unsurpassed realism of the image.
Trained in the Naval Cadet Corps, Vereshchagin knew military affairs and national history well, and also studied literature in detail. This opened for him the depth of knowledge on the topic, which he connected with his artistic creativity.
Later, he was educated at the Academy of Fine Arts, where he worked on monumental, large and multi-figure compositions – real examples of battle-painting.
War and history in the works of Vereshchagin are shown realistically and truthfully, the artist carefully studies the topic before making it play on canvas. His technique has a very detailed elaboration of details, and attention to the characters and the environment.
"At the door of the mosque", a picture painted by Vasily Vereshchagin in 1873. At this time, the artist was engaged in the creation of a whole series of works, united by one theme, and later it was called the "Turkestan Series". Passion for the ethnography of Eastern countries took Vereshchagin no less than domestic military history.
For many years he spent studying materials and documents of Eastern history. During his long stay in Central Asia, Vereshchagin performs many sketches of buildings, heroes, landscapes he has seen. The painting "At the door of the mosque" was based on one of these etudes.
In the center of the composition, the master places the portal of the mosque – Gazret-Yasavi revered by Muslims. The richly decorated doors, which Vereshchagin portrays with scrupulous precision, up to the very last curl of decoration, vividly contrast with the poverty of the beggars who sit at the threshold.
The decline of a great civilization is the theme that Vereshchagin shows in this work.