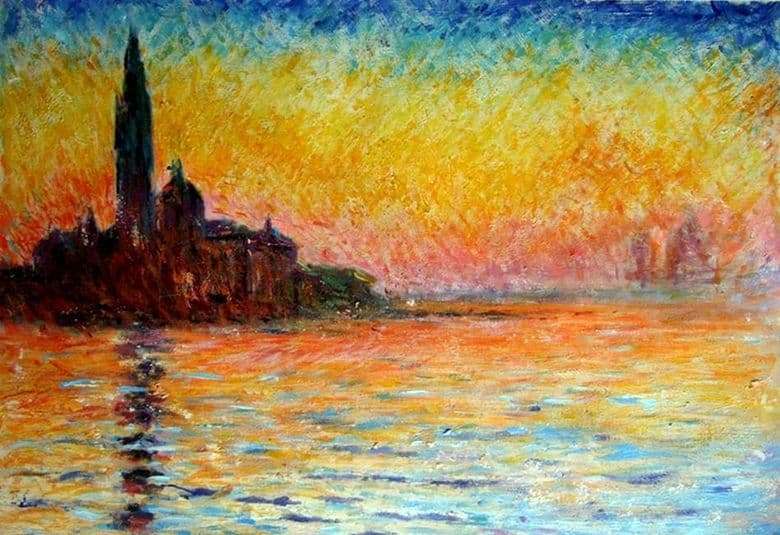 This is one of the most representative paintings of the painter. It is characterized by orange tones, with which the artist perceived the decline of the Italian city. They stand out: the water and the cathedral of Venice. The artist himself notes that this picture is different from others in that the idea was so beautiful that it worked in a frenzy, following the sun and its reflections in the water.
One of the important techniques of Claude Monet was a perspective without depth with plans that were influenced by his study of Japanese records, popular among French artists. In his work, Monet uses a dramatic tonal contrast that eliminates intermediate tones, influenced by photography.
Claude Monet's painting was taken directly from the environment and his desperate inspiration. Therefore, he uses fast technique to instantly capture light and color with short strokes and paste loading. Uses pure and juxtaposed colors, with a flexible, bright touch, highlighting his series, where he repeats the same theme at different times of the day.
In the picturesque methods of Claude Monet were established principles for the creation of modern painting. Therefore, his brush sought to share impressions of feelings, rather than capturing history or giving moral guidance to the viewer.
This is an impressionistic landscape with oil technology and canvas support. It is located in the Bridgestone Museum in Tokyo. This is one of the most representative paintings of the painter. Despite such a deep meaning of the painting, the artist still does not seek to exert pressure on the viewer and allows him to enjoy colors and the play of light. Muted and at the same time, screaming in a good sense of the word shades allow the picture to merge with the sunset and the onset of darkness. The artist portrayed what came into his head at this time; he did not want to depict what he did not feel.