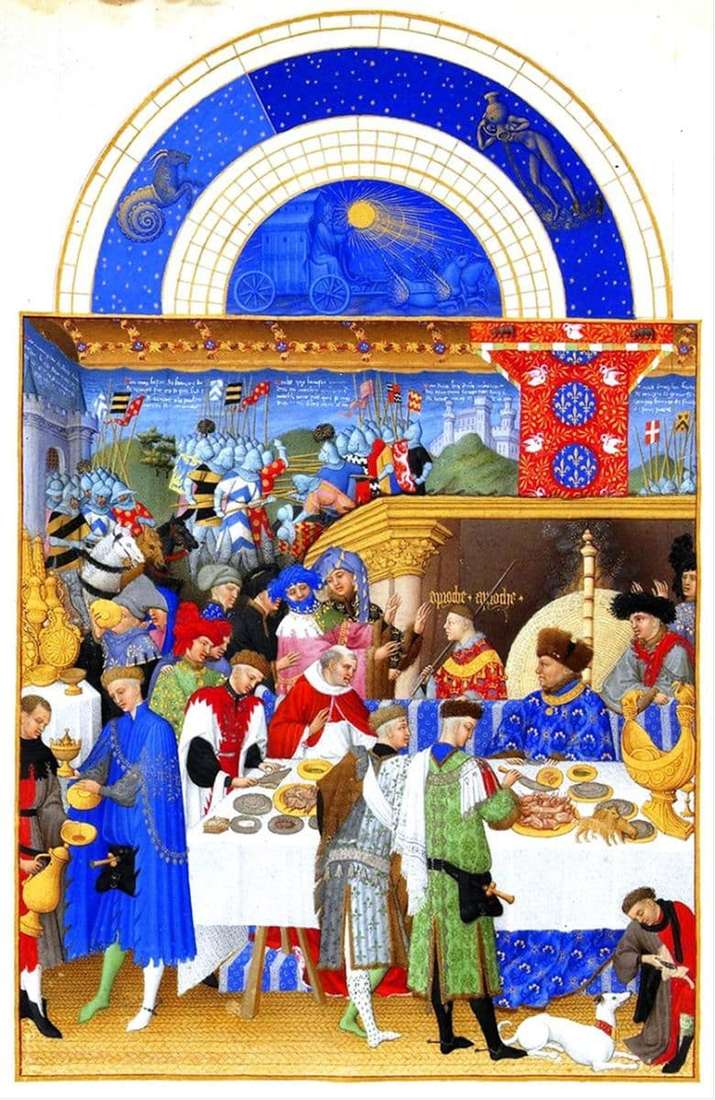 The Manuscript "The Magnificent Husband of the Duke of Berry" is an illustrated manuscript created by the brothers Paul, Jean and Herman Limburg in 1410-11416. It is believed that most of the miniatures belonged to their hand, while gilding, capital letters, text and some illustrations were made by other artists. The work remained unfinished due to the death of the authors.
The manuscript, intertwined in morocco, consists of 412 pages, each 29 × 21 cm in size. The most famous part of the "Hour Book" is 12 small illustrations of the "Seasons" cycle. In each figure, dedicated to a particular month, there is a celestial hemisphere adorned with stars. On it – signs of the zodiac, solar chariot, marked the number of days.
Under the sphere are represented various castles of France. Somewhere they are only outlined by strokes. On the pages of March, June, July and September are shown in full.
The main plot is everyday scenes from the life of peasants and courtiers. Agricultural work and hunting allotted eight drawings. February stands out in particular – this month the artists opened a peasant house for the viewer, so that in addition to the yard and the usual activities, you can see the interior decoration. The image is also interesting because it is probably the ancestor of winter landscapes in European painting.
The life of the courtiers describes January, April, May, August. In January, Duke de Bury himself sits at a table in a fur hat, a blue robe with a gold necklace on his chest. The miniature is dedicated to the feast, the words "come and come" on the wall with gilded columns behind it sound like an invitation to citizens arriving on a holiday with gifts for their master. In the foreground a man feeds a dog. On the left, the butler pours guests a wine. There is an opinion that Limburgs themselves are present in the picture – one in a red cap, the second is behind him, only his profile and the arm hugging his brother are visible, the third one is slightly higher. The product is filled with luxury and gold.
However, the January feast does not violate the usual life of the palace – behind the festive table a group of knights punishes the guilty.
Those present are shown in sufficient detail, the features perfectly convey the mood and image of the characters. Colors – bright, saturated, life-affirming
The manuscript is currently kept in the Conde Museum, near Paris.