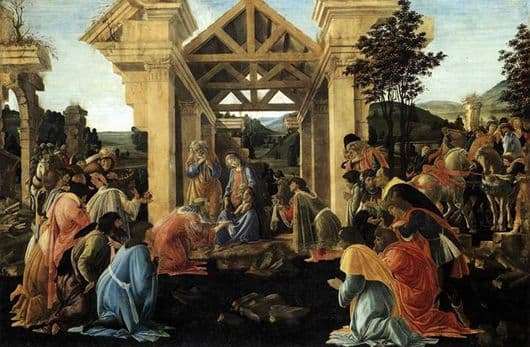 The plots of biblical writings always had a hidden meaning and secret character. Therefore, in the Renaissance they were interested in many artists, among whom there are several popular names – Botticelli, Leonardo da Vinci, etc. They began to compose compositions from the most famous events described in the Bible. But in this picture, the main heroes became the Magi, who tirelessly worship the infant Christ, who was born of the Holy Virgin Mary. Among his number there are people of completely different professions and positions. There are bankers and many others, so everything says that the power of the heir has great power.
In addition, you can see how carefully the mother Madonna saves her baby, who proudly sits with him in her arms among the ruins and windbreaks. There is a certain meaning here that tells us that the old is behind everything, and everything new opens up before us and people will have to accept it all. But it was not by chance that people crowded together; almost the entire Medici family bows before a newborn. Some members of other noble families are wary of this phenomenon. Poets, artists, writers, thinkers, and even Botticelli himself are all depicted on this canvas. After all, it was one of the traditions to be able to portray yourself in a painting written by itself.
It is also interesting that the Medici family was the first founder in Florence of the world-famous Brotherhood of the Magi. It is known that not everyone could join it, and it was done for a reason. All this allowed to make processions that made it for the good of the whole nation.
Bright colors were able to fully convey the dynamics of the celebration. Therefore, it was impossible to leave such a biblical event without a description, because all this was relevant in those times, to this day.