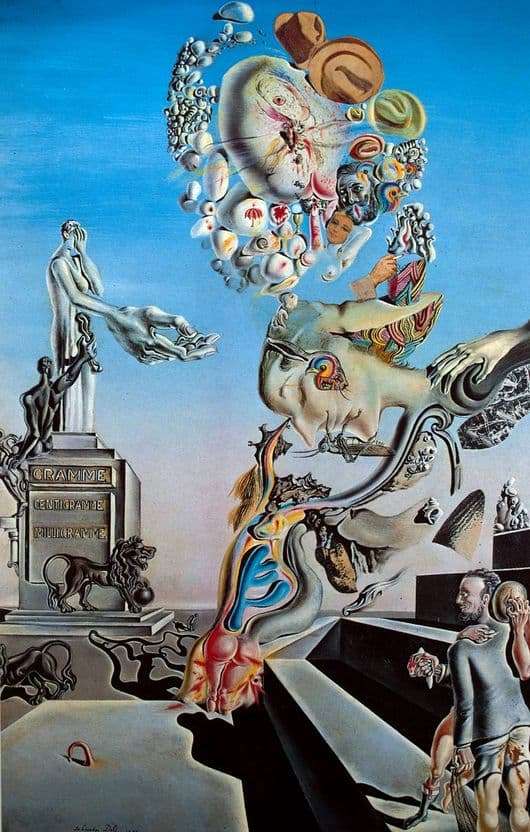 The great Spanish surrealist painter, Salvador Dali, was born in Figueres. After graduating from the Madrid Academy of Arts, he absorbed the teachings of Z. Freud and the work of the artist D. De Chirico, which influenced his development as a talented artist of the twentieth century.
Its specific name, the picture received from the poet Paul Eluard.
The "dark game" surprises and at the same time, delights the imagination of the painter, who was able to saturate the canvas with various fantastic creatures and figures. Sophisticated and ingeniously embedded in the consciousness of clots of fiction and reality, pieces of biological tissue, which came from nightmare dreams. Approaching the most vital characters, characters can be understood as a couple embracing, but more frightening are the huge steps that lead to the abyss of uncertainty. Strange visions envelop consciousness, arising surreal. Nearby is a monstrous monument, and its foot on both sides are placed sculptures of lions.
On the central part of the picture there are women's femurs with a complex composition in the form of amoeba. The image of a bird's head, an exaggerated silhouette of a woman with eyelids and a gentle hand caressing the face of the character are interwoven into it.
Vile visions in their revelation, inspired by perverted sexual motifs, swirl over the character's head.
Obsessive fears, ideas, sophisticated desires of the artist himself are embodied on the canvas – and this is the most coveted theme of the picture.
At the end of this exalted construction, the circulation is reconstructed from hats, stone-like forms, heads.
The image of the whole work, on the one hand, repulsive, but also attracting attention, on the other.
The theme of such revelations can be traced to some of his insane fantasy elements in his other paintings, and finds admiration among admirers of his talent.