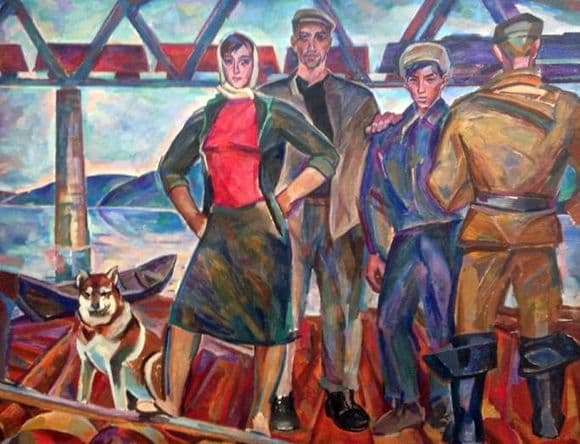 One of the main representatives of the severe style in the painting of the Soviet Union is Andronov. His artwork is a kind of reaction to the realism of socialism. The main feature of his creation, "Fleshguns," is that one cannot see any individuality of images here. People here are turned into types that are too similar to each other.
Regardless of gender, in each character is visible some kind of masculinity. All the people depicted in the picture, completely devoid of individuality. Andronov does not set a goal to prescribe the psychology of images, to display any emotions on his face. There is courage, everyone is ready to work. He doesn't depict anything else; all other faces are simply erased from typical, identical images of people.
In writing the picture used bright rich colors that help to convey the sun. Clarity and sameness of images. No gestures, except the hand of one man on the shoulder of another, no relationship between them, no emotion. The hand on the shoulder is a symbol of strong friendship. Not too emotional. All lines are clear, straight. All figures, even female, look a little angular. One man has his back, but because of the writing technique, this is not immediately clear.
Monumentality of the picture informs about the significant contribution of people to the development of the country, about their social significance. Despite the fact that each character is made in a certain color, they are united by a certain common shade – gray-brown. It is necessary in order to emphasize the lack of brightness and grayness of personalities in the individuality.