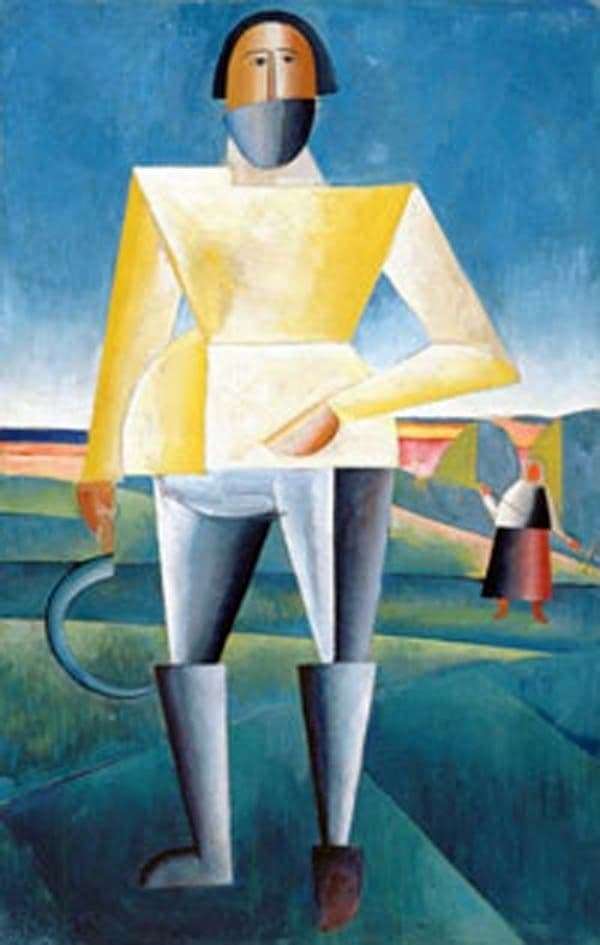 1920s, Moscow Museum of Modern Art
The painting was the result of a creative break in the painter's artistic consciousness. The reaper depicted on the canvas is a male portrait embodied in the new vision from the large collection of "workers" portraits of Malevich. In the catalogs of the artist's work, the work is accompanied by a note – "the motive of 1909". Probably, then the painter depicted the character in a different style and appearance. Over the years, the futurist transformed into an ideologue of a new artistic direction – supermatism. Evolution has resulted in new forms of painting, to which the witness is the picture "The Reaper".
Before the public appears an unusual human figure in full growth. A man holds a sickle in his hand, he goes straight to the viewer – the leg open in the step of the foot is clearly visible.
The character looks like a construction assembled from geometric figures – a clear tribute to new art. Malevich created a landmark picture in a new, unusual style, but the plot and drawing details allows you to perceive the image as a portrait – albeit strange, executed in an original manner.
The overall tone of the picture conveys the usual rural landscape – the reaper confidently walks across the field, a little further, in the depths – the figure of a woman, probably a reaper. Each object, including nature, is depicted in clear geometric lines – no dash canvass deviates from the design in a new style.
The legs of the reaper are cone-shaped constructions: the upper cones are directed vertices to the lower parts – harem pants are shown, tucked into boots.
Yellowish shirt (rectangles, rounded triangles, trapezium) casts a metallic sheen. The face is an oval, divided in half, with a grayish color highlighting the "beard". The features of the face are not drawn – they are marked, the hands also look like.
In the distance – a female figure in the same performance, but already in color. The face is simply marked with a bright spot, a sickle is guessed in the hand. The field is geometrically clearly divided into light and dark green lines, in the distance a dark stripe turns into a blue-blue sky.
The artist's high skill is surprising – the picture, literally "constructed" on a flat canvas, is perceived as spatial, full of air and spaciousness, a picture from rural life.