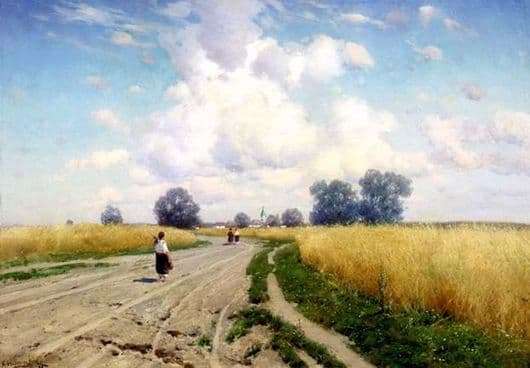 As they say in Russia, two evils – roads and fools. About fools, probably true. But about the roads – the exact statement.
The roads in Russia were unsightly, and remained, and this is despite the progress or something else there. And even if they make the road well, it won't be for long. And, as a rule, only central roads make good, and those in the outback – like during the reign of Tsar Pea – with bumps, with mud impassable in spring and autumn, and in summer – dusty, in winter – under big snowdrifts.
Even if not every cart could overcome such roads, now not every tractor can easily pass there. In general, it is not expensive, it is a test of human endurance and endurance technology.
Passed the test – your road and there is an opportunity to go further, did not pass – stuck in the mud – help will not come immediately.
On the canvas Kryzhitskogo summer road and it leads to a small village with a small chapel. Around the field with wheat, and somewhere in the distance this village is visible. And people are walking along the road and, apparently, they are already coming from work in the fields.
In the summertime, the most work in the field is to look after the harvest, and if necessary, to harvest it. Bright and juicy, not stingy in colors, depicted the artist, this landscape. And the sky breathes its life and the earth does not lag behind: a lot of wheat, and at the edges of the road the grass is in green attire. And the sky in the clouds, in lush and probably rain. On the one hand – it's good that rain – rain will flood the earth with water, on the other hand – water can spoil the summer crop and then nothing will be in the bins.
That is why people are working in the field from early morning until sunset. But the main thing that the artist has managed to convey is the rural flavor, the nature of the region. I just want to be there and walk barefoot on the dusty road. It is especially pleasant to walk this way after the rain, not immediately as it ended, but somewhat later.