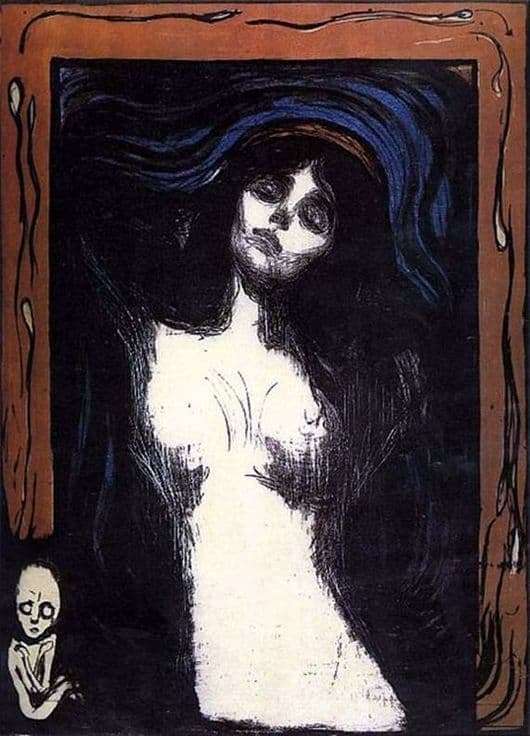 Munch's painting, formerly known as "The Loving Woman" is currently known as "Madonna."
Creating this canvas, the artist had a plan to reflect on it the main stages of the life of any woman: conception, reproduction of posterity and death. Therefore, it is believed that the lithograph of Madonna is the very first stage, which depicts the conception of a child. Agreeing with the philosophical concept of Schopenhauer, Munch believed that the mission of any woman fulfilled after performing the genital function.
Lithograph is very different from the classic version. A frame is added to it, which depicts spermatozoa, as well as a small but significant figure – the embryo in the lower left corner.
The lithograph, dated 1895, was sold at auction in London for $ 1.9 million, becoming the most expensive lithograph of all time. The name of the buyer was not disclosed – it is a private collector from the United States.
The model from which the picture was painted, was Dagni Yul – a close friend of the artist. Madonna Munch is depicted naked, ecstatic and completely immersed in herself.
In this work, the famous Norwegian artist embodies his own tragic feelings and experiences. The eyes of the woman are half-closed and express fatigue, and the black, loose hair with a blue tint leaves a feeling of danger and evil. The background of the painting is also full of melancholy and anxiety, the whole plot of the plot warns of an impending threat to all mankind.
Madonna Munch is very different from the classical canonical image. The only similarity is a halo around the head. In this picture, as in many others in his work, Munch shows the despair, pain and tragedy of human existence. Love and death are inextricably linked in the understanding of the Norwegian artist.