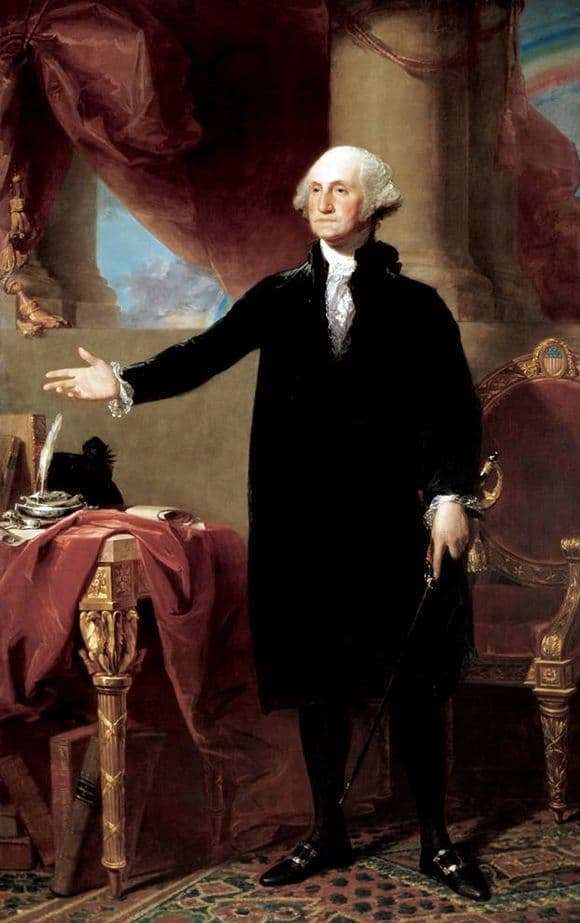 Portrait, as a genre of art, known since ancient times. But not every artist knew how to write people, so that the portrait would not only have similar facial features, but would also convey a person's character, mood, and emotional state. The American artist Gilbert Stuart (1755-1828) succeeded in this in full measure.
Portrait particularly popular in the era when the maximum is reached faith in human possibilities, his common sense and transforming power. The end of the 18th century for America was a time of colossal transformation, when one person was able to change the course of history. That was President George Washington.
Gilbert painted several of his portraits, and the famous "The Athenaeum" remained unfinished, which unnerved the President himself. Since the last artist made 130 copies. He sold them to ensure the existence of a family however unsuccessfully. Due to lack of funds Gilbert Stuart, painted a portrait of several chapters of the country, was buried in a common grave.
An incredible injustice, because even on the US bill emblazoned not the first hundred years of the portrait of the President made his hand. In 1797, a portrait of George Washington was painted in full growth. Before us is the statues of a man in the pose of an orator, in civilian clothes. Despite his mature age, he has a proud posture. Remarkably spelled eyes, bright, calm, thinking. The lips of the President are tightly compressed, the mouth is distinguished by a characteristic bite. Light blush speaks of a lively character.
Amazingly beautifully written out hands, well-groomed, with long fingers. An open right palm facing the viewer as if invites to dialogue. In his left hand, Washington holds a sword, a symbol of power and military success. In contrast to the dark clothes of the figure, the décor of the cabinet is bright: a red tablecloth, muted bordeaux-colored curtains, and carved furniture with gold-plated trim. Symbolic image of a rainbow in the background, which seems to say: "As long as we are governed by George Washington, there will be peace."