Description of the painting by Firs Zhuravlev "Children beggars"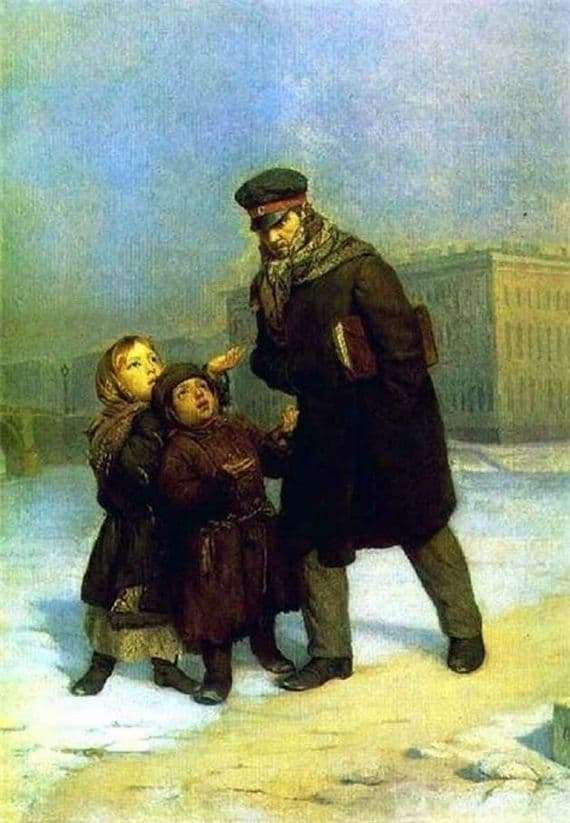 Zhuravlev is a Russian artist, who gave preference to genre scenes, which, like a searchlight, highlighted the evils of contemporary society. Rebellious streak, the desire to expose and plunge dullness and cruelty, were one of the main features of the artist.
This is also indicated by his participation in the so-called "riot of fourteen" – the Academy of Arts held a big competition in honor of its centenary anniversary. The prize for the winner was to be an expensive medal made of pure gold. However, fourteen graduates, among whom were the best students, refused to participate in the competition and defiantly left the Academy.
"Children Beggars" – one of his paintings, which is fully characterized by all the characteristic techniques of the artist. She is very emotional, very simple and the story easily gets behind her. An official runs through a snow-covered ice-covered river – his left
hand awkwardly presses a folder with papers to his side, several layers of clothing make him thick, his cap low over his eyes. He clearly wants to quickly get into the heat, untangle the scarf, warm his hands. He does not even look at the children pulling on his sleeve.
The boy is a little angry, a little confused by this state of affairs – because of his small age, he had not yet had time to get used to the everyday unfairness of life. The girl pulls her hands with a plea, but already with the usual bitterness – she is older than the boy, she already understands that this angry person is unlikely to help them. Above them is the winter twilight sky, evening is coming.
Soon the clerk, in passing, would push the children aside and rush forward without even remembering them.
He has tea and a warm bed in which he will fall in the evening. Is there anything in children – he is not interested.
The picture is characterized by completeness and focus on the main image. It is as if the whole is tightened to the middle, attracts the viewer's eye precisely to her. The rest is written no less diligently and inspired, but not so important. The sky and the river, spreading in the haze of the building – they are just the background





(
2
votes, average:
4.50
out of 5)
Description of the painting by Firs Zhuravlev "Children beggars"