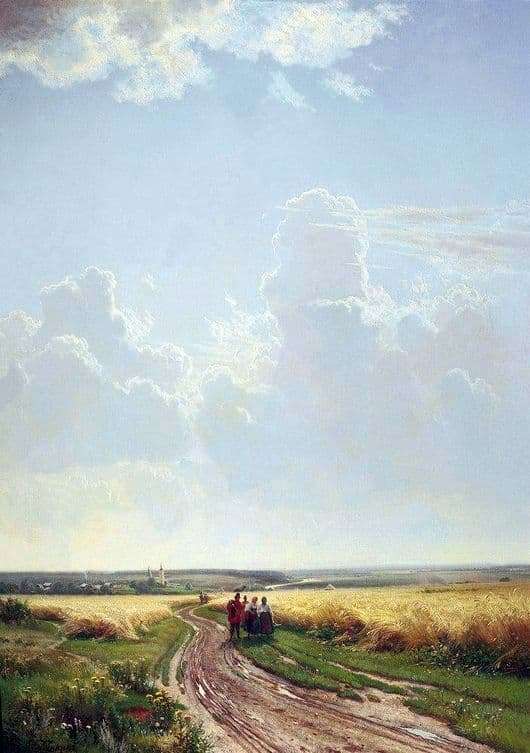 The sketch, on the basis of which the famous painting "Noon. In the vicinity of Moscow ", developed by the artist in the mid-60s of the 19th century, when the artist spent the summer in the old manor house Bratsevo, located north-west of Moscow. Of the many etudes created, the basis for this picture was the most elaborate.
In the picture, the artist managed to portray a kind of "ideal" Russian landscape: the field through which the crooked country road goes, a small river flows in the distance, a hill, a poor village with a towering church bell tower. Nature for the landscape he found in the vicinity of the village of Bratsevo.
It should be noted that for Shishkin's creativity, the landscape is not typical. Most of the artist's works depict the forest. Here is a vast expanse, a huge sky, occupying a significant part of the canvas. Despite the fact that the image of the sky never took Shishkin's attention, on this canvas he managed to wonderfully display an amazing clear sky filled with ash-silvery clouds with bright sunlight penetrating through them.
Unusually for Shishkin and the image of people. Most often on his canvases you can see a self-sufficient nature, and very rarely – a person. Here, on the country road go local peasants with the tool. There are other signs of the fact that in this place nature has submitted to man.
The painting depicts rural life, its foundations, peasant work, repeated from year to year. Being one of the best works of the painter, "Noon. In the vicinity of Moscow "stands alone in his work.
The painting is the first Shishkinsky canvas acquired by the famous merchant Tretyakov for the newly created gallery. After that, Tretyakov at all Mobile exhibitions was looking for Shishkin landscapes. And the artist himself received the recognition of society and a certain financial success.