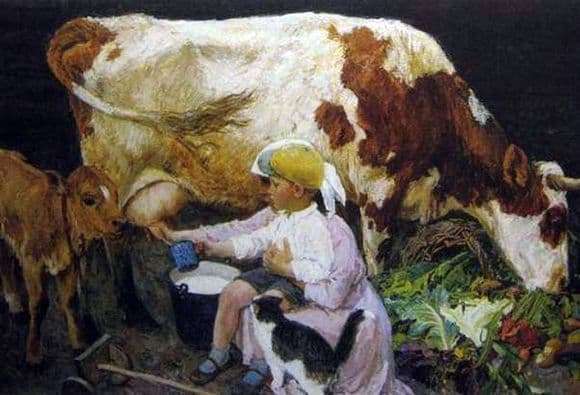 Arkady Plastov is the most striking figure of Soviet art, it was this artist who managed to create his own unique and lyrical artistic language, depicting simple and familiar scenes to everyone.
The creator of easel painting, illustrator and real master of landscape sketch – Plastov, it seemed, could work in any existing genre. But realistic genre painting won the heart of the artist, as she continued to conquer the hearts of viewers who viewed his paintings in museums and exhibitions.
Surprisingly, Plastov worked all his life in his native village, where he was born and raised, and which he left only in order to get an artistic education.
The landscapes of the village Prisloniha, which is located in the Ulyanovsk region, are captured in the paintings of the artist with incredible love and precision, and the characters in the paintings seem familiar and familiar.
Like many other similar paintings, "In the Village" was written from Plastov's native places. Another name for her "Milk mug" refers us to what is happening on the canvas – a woman with a child on her lap milks one of the cows, and the child substitutes a mug to fill it with fresh milk.
The work was written in 1962. It combines two themes that were close to Plastov throughout his entire work – the theme of work and rural life. A woman milks a cow, as she does every morning, and this is really hard work. But the child is about to be able to drink milk, which means her work is not in vain. Lyricism of a simple composition and a hot topic of peasants working from early morning are especially bright in Plastov.
The heroes of the picture, mother and child, are immediately attracted by their sincerity and the love that binds them. The overall color of the picture is mild, characteristic of Plastov throughout his painting activities.