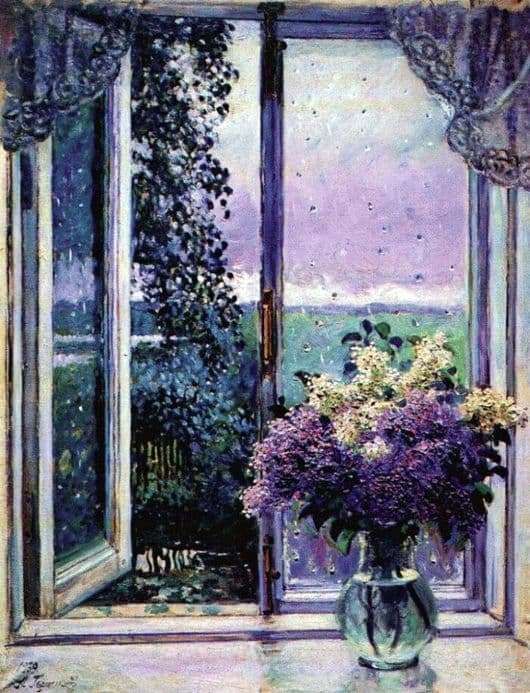 Alexander Mikhailovich Gerasimov was very warm and sincere about any manifestation of nature. In his work often come across landscapes and still lifes. He was particularly attracted by the rainy weather, which brings lyrical thoughts.
The picture is constructed in such a way as if we are looking out the window and, together with the artist, are watching changes in nature.
Raindrops flow down the glass, allowing you to "hear" their knock and smell the freshness and renewal. In the foreground is a vase with flowers, but it is inscribed harmoniously with the general background, which the viewer does not single out with its separate subject. The bouquet is depicted as alive, there is a feeling that you can touch it and feel drops on your hands. Light movements of the brush worked out all the details, even the smallest.
The view from the window allows us to conclude that we see a spring rain. Buds bloom, the grass turns green – all this does not obscure the gloomy cloud hanging over the house. Despite the abundance of cold colors, the picture warms the soul. Waiting for spring, the movement of nature fascinate, attracting gazes.
Not only is the landscape remarkable, but also the setting in which it is inscribed. Old window frames, faded heck, unwashed windows, dirty curtains are all part of the dacha. It has not been visited for a long time, because the trees are neglected, the branches are beating against the glass. And will the owners come? A simple vase, which looks unsophisticated, speaks of a small prosperity. Only weeded beds and brand new bushes talk about the presence of life.
The picture itself opens a window from the small to the huge world, because if you look closely, there is a lake and mountains. What is there in the distance? It remains only to rely on the will of fantasy. The landscape shows a familiar and familiar environment that has to philosophical thoughts about nature and its cycle of life.