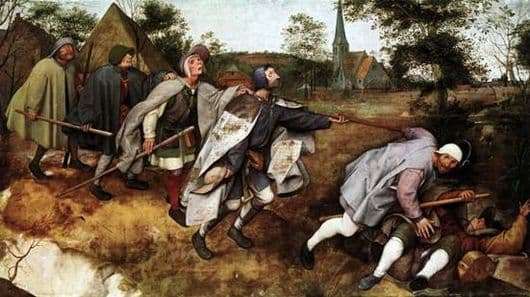 The painting was written in 1568. Today it is located in the Capodimonte Museum in Naples. The one who happened to read Charles Le Coster's wonderful novel "The Legend of Thiel Eulenspiegel," probably knows that during the time of the Dutch Revolution, in the fierce struggle with the Spaniards for independence, all the people took part. One of the largest Dutch artists, draftsmen and engravers participated in these events, who also participated in the birth of the realistic Flemish and Dutch art, Peter Bruegel the Elder. He was an artist and thinker, constantly and intensely thinking about the meaning of life, Bruegel was much able to get ahead of his time.
His bright talent did not fit into the framework of generally accepted concepts and genres of art. The main theme of the works of Bruegel is the image of the Dutch peasants and artisans of the city. He was one of the first painters who began to depict the work of man. He had no desire to create the ideal image of people from the people, on the contrary, he tried to make their images as natural, direct, deliberately rude as possible. In the paintings of this artist there was always a certain amount of mischievous humor. Characteristic in this regard are the grotesque figures of cripples and beggars, whom the artist has depicted more than once.
Bruegel's biographers say that he deliberately changed into a peasant outfit, in order to walk around the villages, to get to know and study his character characters better. Another characteristic feature of Bruegel's art canvases is their character of parables. Usually, any of his paintings was not a simple depiction of a group of people against the background of the landscape, it was also an illustration of some famous stories. This is very noticeable in his latest picture of the artist "The Blind" (1568), in which he presented a famous parable about the blind man leading other blind people. This picture also has several other names – "Parabola of the Blind", "The Blind", "The Blind Leading the Blind", "The Blind Leading the Blind". For the plot of the picture, the artist chose a biblical parable about the blind, in which it is said that if the blind lead the blind, then both will fall into the pit.