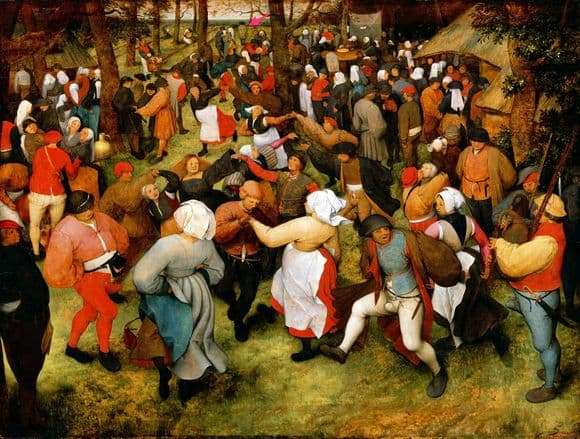 There are several variants of the "Wedding Dance", but this one, due to the level of painting technique, is considered the best.
The picture illustrates the fun that prevails among the 125 guests of the wedding. Almost all the space of the painting is occupied by dancers, among whom you can find a bride. This is a girl with lush hair and a black dress. This color corresponds to the traditions of the time in which the picture was painted. If in the Middle Ages the dance was considered a sin, then in this picture it plays the role of ritual. If it is not difficult to identify the bride, then it is impossible to find the groom.
A little further between the trees there is a panel on which the wedding crown hangs. There are ditches in the left part of the picture. They are present here as tables and chairs for guests. A characteristic feature of Bruegel, which he endowed with almost all of his work, is present in this picture: the figures are made in the style of satire.
In Bruegel's "Wedding Dance," references to voyeurism are noticeable. This applies to those depicted kissing and hugging people. The artist depicted men in the foreground in an excited state. This becomes noticeable if you look at the cod of men.
Researchers believe that the "Wedding Dance" of 1556 belongs to a series of three paintings by Bruegel. In addition to it, the series includes "Peasant Dance" and "Peasant Wedding".
For several centuries, art critics believed the picture was lost. Exactly until William Valentineer, director of the Detroit Institute of Art, found it at a sale in London. Today the canvas is the most valuable exhibit of the museum.