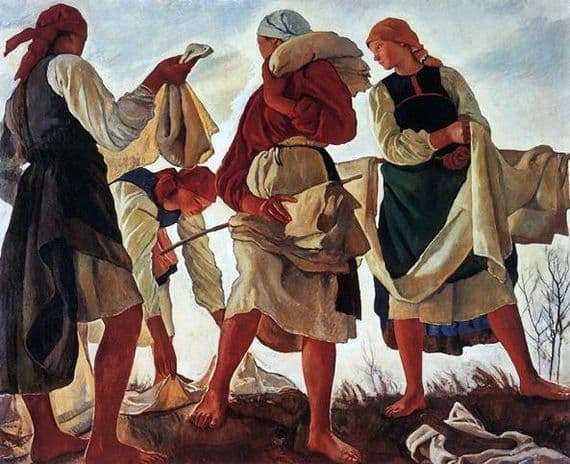 Serebryakova is a Russian artist, one of the first women to enter the history of painting. She was born in a very creative family, her father was a sculptor, grandfather architect, mother artist, one brother was also an architect, the second made a great contribution to the development of Soviet painting and graphics.
In such an environment, the girl could not remain indifferent to art, and, having graduated from the women's gymnasium, went to art school. After she was a student of Braz, she traveled to Italy and France. Of all the genres preferred portrait and genre scene. She wrote familiar people, loved to go to nature and take a plot from the life of the peasants who depend on the land and live near it until their death.
"Whitening the host" is the last of her great work, done, however, at a high level, after a lot of sketches and sketches, which are distinguished by strong compositional differences. On some girls they spread a canvas, on others they carried it, on the third they waited for the right time to pass. The outline was morning and evening and noon. In the end, the artist stopped at the option in which the girls just started to work. They stand on the banks of the river, four girls in simple clothes.
They do not pose for a portrait, but they are engaged in business – one spreads the canvas, the second serves, the third unwinds, the fourth is about to connect to the general work.
The composition of the picture is constructed so that the girls stand as if on the very edge of the sky, the viewer looks at them from bottom to top, which gives their figures scale and size. All of them are tall, even sturdy in appearance, with pleasant faces, it seems that soon one of them will sing, and the rest will catch, and along the bank of the river will flow a fiery folk song telling about love or grief.
The picture shows the strength of girls, their freedom, which is not to do nothing, but to fully surrender to their work voluntarily and joyfully.