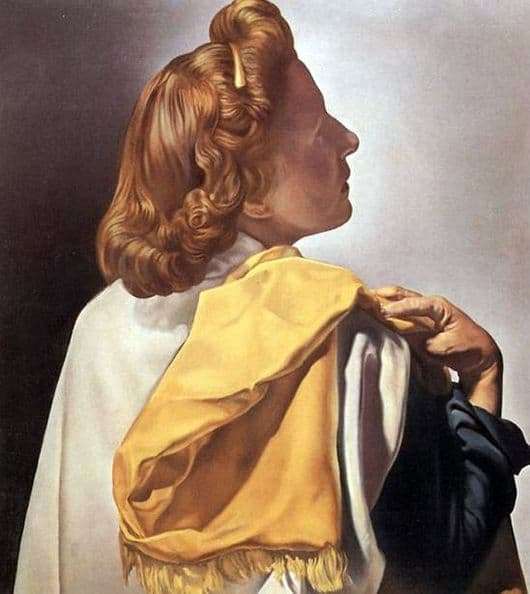 Relationships of Salvador Dali and his wife Gala were repeatedly brought up for discussion, described in articles, notes, books, slandered and exalted by opponents and supporters of the artist. She is a femme fatale who definitely has a "nose" for talents. He is a surrealist and, to put it mildly, an unusual person. They are united by passion, love and creativity.
Gala became Dali's muse, which he captured in many paintings in the most unexpected and diverse images. She and "Atomic Leda", "Madonna of Port-Ligata", and "Galatea Spheres". Her face appears in his paintings three times and is undergoing paranoid transformations. He also writes quite realistic portraits of Gala. Among them are "Automatic start…", "Galarina" and, of course, "Gala, contemplating…", painted in oil on canvas measuring 31 by 27 centimeters in 1954. It is a reference to another Dali creation – "Crucifixion or Hypercubic Body".
In this seemingly rather ordinary picture, we see a woman turned her back to us so that only a semi-profile of a graceful face is visible. She looks somewhere and, judging by the name, contemplates a certain thing, bearing the name Corpus hypercubus. Her hair, whether light or red, is laid neatly, curled, fastened with a gold (can it be gilded?) Hairpin. Leather – yellowish-beige. The woman is beautiful, elegant, despite the fact that, obviously, she is about forty.
She is dressed in dark blue clothes (hands out). Cloak or shawl is a milky white fabric, and over the shoulder a scarf is thrown, resembling molten gold in color. Gala (and this is she, this woman) slightly holds his hand and continues to gaze thoughtfully at the Corpus hypercubus, as if having seen something so amazing for the first time, which is why admiration squeezes the chest, not giving either a sigh, a stir or a glance at.