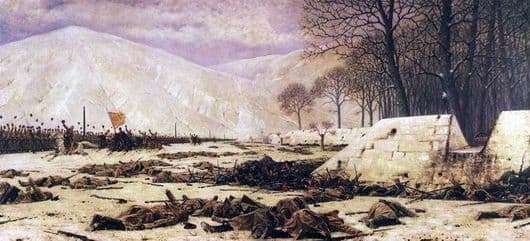 Cloth "Skobelev over Shipka" is considered a historical picture, which carries a deep meaning. Vereshchagin created a whole cycle dedicated to the battles of the Balkan campaign. It was one of the most violent wars in the entire history between the Russian and Turkish army in the mountains of Bulgaria. The bloodshed was based on the brutality of the authorities in the April Uprising. It was then that people learned about the plight of Christians under the rule of the Ottoman Sultan.
Vereshchagin, as a participant in the events, recreated the day when our forces entered the city with a gallant victory. In the background is a parade near the villages of Shipka and Šestnova. Caps are thrown up according to tradition, on the faces of pride and joy for the victory won with difficulty. And the audience can hear the loud "Hurray!" From the mouth of all people. And ahead of everyone is racing on a snow-white horse, General MD. Skobelev, congratulating with a wave of the hand of all his soldiers with victory in battle.
But the war can not go without victims. In the center of the picture there is a snow-covered field with many dead soldiers, curved in fancy shapes. Vereshchagin, as it were, says that victory is given at too high a price. Joy and sorrow always go together in such events.
The composition of the picture does not seem to be intrusive, on the contrary, it is natural and understandable to all. The paints are harmonious with each other, do not mix and complement each other, and most importantly, they do not use poisonous tones that put pressure on a person without giving a full understanding of the whole situation of the plot. Without detailing, the artist achieves an incredibly clear understanding on the part of the viewer, who can calmly guess himself and complete the missing details.
Cloth "Shipka-Shesnovo. Skobelev above Shipka "shows the real war heroes who shed blood for their homeland, sacrificing their lives. Here neither ranks nor rank are important – just courage, courage and honor of a soldier.