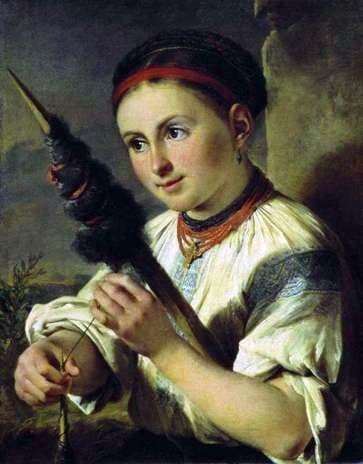 Vasily Andreyevich Tropinin – famous Russian portraitist. Works of the master cannot be confused. Images of Tropinin are filled with special warmth and softness. He did not flatter his models, but he tried to portray in idealistic and easy images without revealing the painful aspects of their lives. Even everyday work appears in his works as an easy and enjoyable exercise.
The picture "Spinach" is one of the famous portraits of Tropinin, which depicts a simple peasant woman, and not a lady from high society. Vasily Andreyevich was the first Russian artist to address the topic of the personality of an ordinary person. For him personally, as art critics often say, "Pryaha" was the first experience of writing "from life". The portrait was made in two versions with a difference of about 10 years. Compositionally, the pictures are identical, the change was made only in the face of the girl. Her affectionate and mischievous look at a later version of the artist draws directly to the viewer.
The girl's face, as can be seen on other female portraits, bears certain common features of an idealistic image – sensual soft outlines of the face, dark eyes of an oblong shape, a tender smile… Despite the simplicity of clothes and jewelry, the artist succeeds in creating an amazingly refined image. The predominant soft light range of colors and the manner of applying paint, used by Vasily Andreevich, help in this. Small dense strokes give the image the effect of roundness and volume, inherent in thumbnails.
The figure of the girl is depicted against the background of the field, emphasizing intimacy and unity with nature. The measured movements of the fingers dragging the thread and twisting spindles, perhaps too soft and refined for the hands of a simple peasant. But V. A. Tropinin tends to have a slightly different result. His goal is to show a modest natural beauty, to create a new version of reality – filled with poetic and good nature.
The combination of authenticity and sentimental-idealistic moods of the master created an absolutely new type of genre portrait.