Home

⇒
📌Serov Valentin

⇒
Description of the painting by Valentin Serov "Portrait of P. P. Dyagilev"
Description of the painting by Valentin Serov "Portrait of P. P. Dyagilev"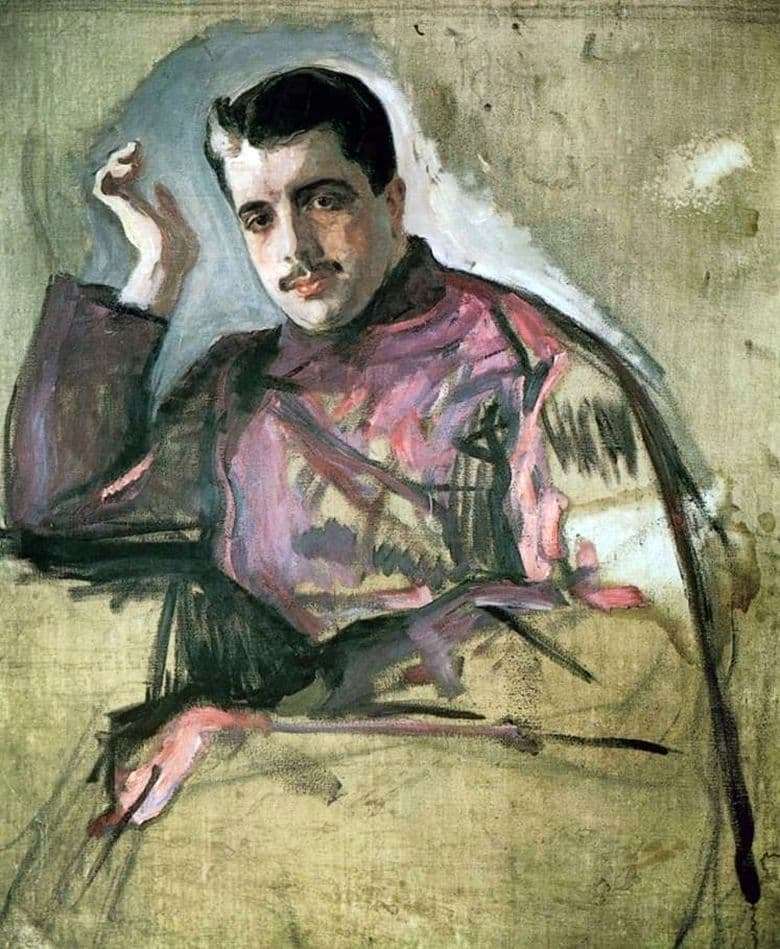 In this picture, Serov V. A. depicts an outstanding figure of Russian culture, the organizer of many exhibitions and operas, including in Paris, the creator of the literary journal "World of Art" Sergey P. Dyagilev.
This portrait of Serov began to paint in 1904, but the artist quickly lost interest in the painting. That is why the image is incomplete, but the main details, the position of the body of the posing are spelled out, the background started. We see that the artist managed to draw only some parts of Dyagilev's body: the face and the right arm were drawn quite well.
Thanks to this drawing we can understand that we are depicted in front of a man in a sitting posture, he is about 30 years old. His head is slightly tilted to the right. It seems that a person has been holding his head with his right hand for a very long time. But someone distracted Dyagilev. He pulled his hand from his face, and
the artist seemed to have managed to capture this fleeting moment.
Posing depicted a little thoughtful and irritated. He clearly did not like being pulled out of his own thoughts. He has black, thick, literally tar hair, deep-set eyes, wide dark eyebrows, neatly trimmed mustaches. Dressed on Dyagilev coat of purple-pink color.
It can be noted that the artist did not draw the hair to the end, so the bangs look pale and almost blend into the scalp. This incompleteness gives the picture more romance and mystery. It is authentically known that the canvas was created right in Dyagilev's apartment, where the editorial department of the World of Art magazine used to be. Therefore, judging by the background of the canvas, with the help of this picture we can find out what color the walls in the apartment of the famous impresario were.
In the unfinished part of the picture we see only the lines, the contour along which the artist should continue to work on the portrait.





(
1
votes, average:
5.00
out of 5)
Description of the painting by Valentin Serov "Portrait of P. P. Dyagilev"