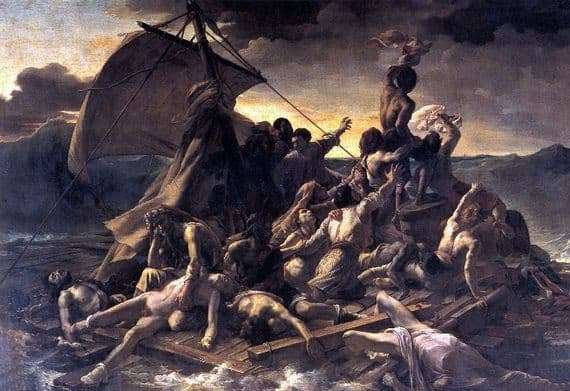 In 1817, Theodore Gericault, an artist from France, went to Italy, where he studied the art of the Renaissance. Upon returning home, he became interested in heroic plots. At that time, the artist was agitated by the real story about the crash of the frigate Medusa. These tragic events, when 15 out of 140 people remained alive, became the subsoil of the painting "The Raft of Medusa".
All the characters Gericault placed on the foreground. Tired, exhausted people who are on a raft, noticed the approach of the vessel. Each of them has its own manner of behavior. Some half dead, while others have lost their mind and do not react to what is happening. Those whose hope of salvation is smoldering are very few. This contrast of the figures creates a dynamic composition. In addition, the artist emphasizes its lighting, which falls on the canvas from above.
Impressive dimensions of the canvas are impressive. The creative style of drawing images shows that the work was performed in the classicist style. And the plot is attributed to the era of romanticism. The master of the brush for the first time showed with paints a change in the state of the human soul and a dramatic collision with a natural disaster. The color spectrum of the picture is gloomy and strict, light spots are seen only in some places.
On his work, Gericault worked for a very long time. He carefully traced every detail of the canvas. The artist made an innumerable number of sketches and sketches. Responsibly, he approached the image of the real participants in the incident, who managed to survive. The portraits of Dr. Savigny and the engineer Correar were skillfully brought into the composition by the painter.
The appearance of the painting "Raft of the jellyfish" caused a huge response among the public. Some perceived it as a protest against the existing structure of a political nature. Emphasis was placed on the fact that an inexperienced captain "Medusa" was taken to the ship under the protection, so that corruption happened to blame for what happened.
Despite the fact that the critique of the picture was accepted with restraint, it was a great success in England, because this masterpiece Gericault first raised the theme of humanity before the representatives of romanticism. In 1824, the painting became a landmark of the Paris Louvre.