Description of the painting by Stanislav Zhukovsky "In May"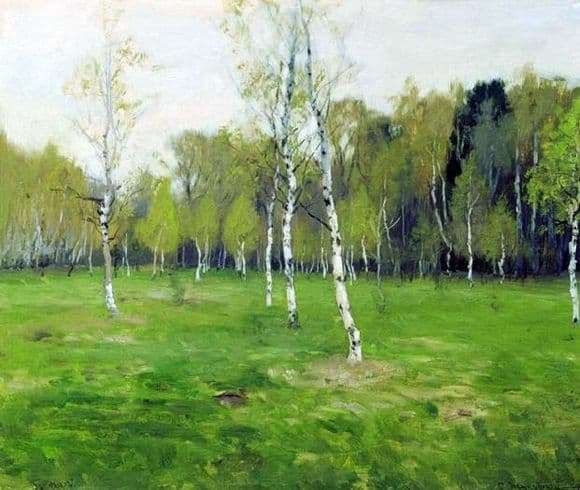 S. Yu. Zhukovsky studied painting in Moscow, although he had Polish roots. He was a student and follower of I. I. Levitan. Many works of the artist resembled the pictures of the teacher; the work "In May" was not an exception.
The picture reflects the beauty of the Russian landscape. This kind of work was a kind of protest, because the artist's father was demoted due to the anti-Russian uprising. The painter showed that he was above politics and rules. He loved nature very much and always painted from nature.
The picture conveys a riot of shades. The artist uses a contrast of green color that allows you to realistically convey the greens and leaves of trees. A kind of optical illusion, the contemplator plunges into the atmosphere of the forest edge. Here is a glade lined with trees, and in the middle are several lonely birch trees. This is a landscape of classic Russian birch grove. Apparently the day was overcast,
the artist did not display the play of light and shadows.
Trees grow very close to each other, impenetrable grove. It would seem just a miracle that it turned out to be such a glade. Although the trees in the center demonstrate the dominance of nature and after a while this forest expanse will not exist. The picture conveys the power of the plant world, its impenetrable distance. As if this forest is infinite, and it is impossible to pass through it.
The title of the work determines the time of writing the work. May month is just a period of riot of grass and foliage. The artist very accurately conveyed the atmosphere. The foliage blossomed long ago, and the grass covered the ground with a dense carpet. Chaotic strokes of paint show that spring gives way to summer, and it's time to mow tall grass. In the village, just this period is the time of the first haymaking.
S. Yu. Zhukovsky in all his works reflects reality. The artist traveled extensively in Russia and Ukraine, where he drew new ideas for creating masterpieces.
Description of the painting by Stanislav Zhukovsky "In May"