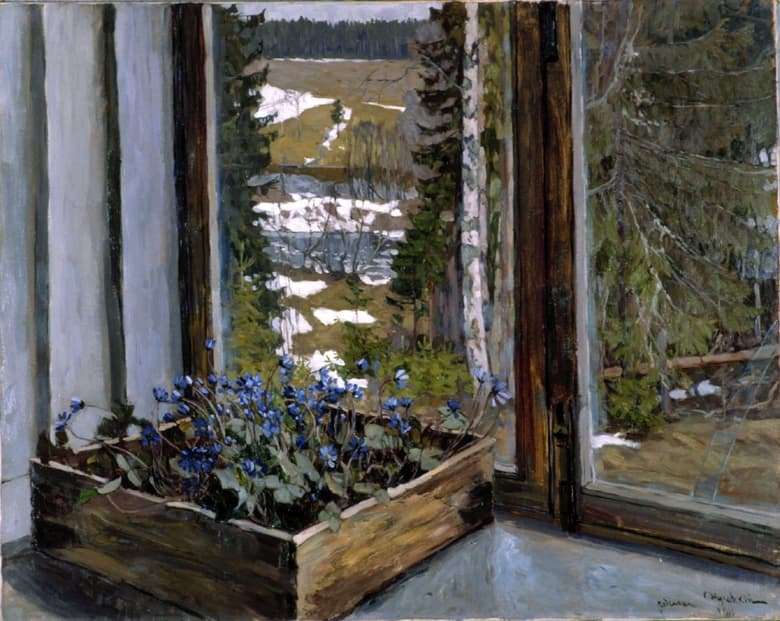 The painting "Snowdrops" was painted by Stanislav Yulianovich Zhukovsky in 1911.
The artist was then in the Tver estate of Milyukov and snowdrops became the heroes of several of his works.
The picture shows the period of the end of winter and the beginning of spring, when the snow melts, the rivers are filled to the brim with melt waters, and the plants tend towards the warm rays of the sun.
In the foreground, the artist placed a small wooden box on the window sill of a wooden window. It is filled with flowering, bright blue snowdrops, with juicy green leaves and stems bent in different directions. Some flowers seem to be turned to each other, others reach for nature outside the window, and still others seem to turn away from the sunlight.
Outside the window is a spring landscape with green firs and snow lying over the ravines. In its foreground, right near the window, grow several tall birch trees and spreading coniferous trees. Right behind them there is a view of a wide river and a large field, in which there is still some white snow. A large field of green grass stretches far to the horizon and ends at the edge of the coniferous forest. The trees stand close to each other, their heads resting against the blue, slightly overcast sky.
The landscape almost does not show the sky, but in all details a window is shown through which it can be seen. The brown window frame has a handle and a lower latch. The glass is clean and slightly fogged along the perimeter of the frame, and on the lower right side of the window has two cracks.
Zhukovsky is extremely hardworking, and in combination with his talent, this gave rise to incredibly fascinating and brilliant works.
To date, the picture of Stanislav Zhukovsky "Snowdrops" is in the Rybinsk State Historical, Architectural and Art Museum – Reserve.