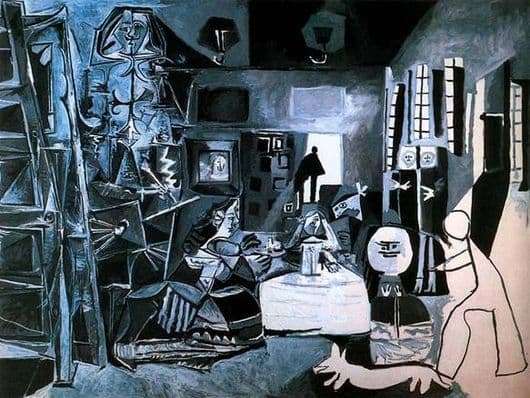 The painting "The Meninas" by Diego Velázquez, which was also called "The Family of Philip IV", was written in 1956 and is one of the most famous paintings in the world. Currently stored in the Prado Museum in Madrid.
In the Picasso Museum in Barcelona, ​​there are 58 no less famous around the world variations on the theme "Menin", written by Pablo Picasso in 1957 and called "Menin. According to Velasquez.
The artist painted 44 canvases for 4-4 months, in which the painting as a whole and the images from it were amenable to thorough study. Picasso abandoned the realistic writing style and used the technology of "plastic symbols", which is the symbolism of a transforming space, open local colors and geometric shapes. By 1957, Picasso gained complete creative freedom, having passed through a series of experiments that allowed him to create his vision of life.
The artist approached the study of a picture from a philosophical point of view: each image was viewed from at least two sides, sides of good and evil. A dog can be either a black thorny wolf or a white innocent creature. The first character on the right is the boy Nicolasito, who can personify childhood and spontaneity and, at the same time, be a symbol of aggression.
Both in the first and in the second variant the same triangle and red color are played up. The maid of honor, who serves glass, Maria Agustina Sarmiento, has absorbed in her image the childish naive touchingness, which grows into malice. The final way is a green triangle – a symbol of death, into which the face of a little girl, transformed into a white plaster mask, passes.
The image of the marshal of the court goes from "the man in black" to the torn-up Christ. The young Margaret is depicted in a more stable way – the light of white and yellow is fixed to her, and in the outstretched hands of Picasso he saw the gesture of the crucified Christ.