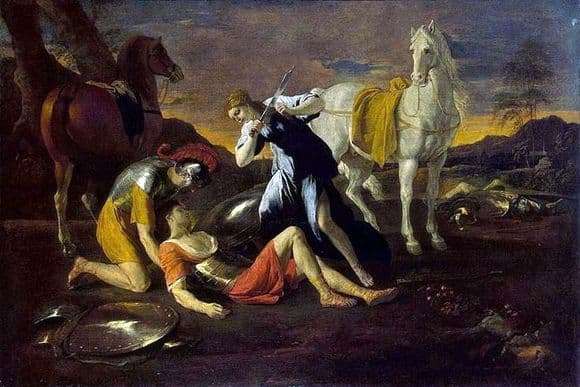 Poussin really attracted the works of the famous poet Torquato Tasso. He was captured by the maximum confusion of the plot and wonderful adventures. A number of canvases by the artist are written under a strong impression after reading these verses.
"Tancred and Erminia" – reveals the artist's lyricism. In this case, rationalism goes far into the background. It is replaced by drama, psychology of great depth and intense experience.
Herminia was the fearless leader of the Amazons. She was in love with a brave knight named Tancred. Once she found him wounded. The thing is that Tancred had to fight with the Argant (giant). Erminia wants to bandage the knight's wounds at any cost, but she has nothing suitable at hand. Then she cuts off her wonderful hair. In its impulse humanity and love merge. The determination of the heroine does not interfere with other faith. The artist ignores the religious aspect that permeates the plot of Tasso.
The viewer feels an incredible calm. All the characters seemed frozen. Also silent landscape, surprising for its desert.
The amazement of the Amazons bursts into this frozen world. Her huge soul miraculously illuminates everything with a special miraculous light. Immobility tenses up. Color spots gain strength and depth.
We see their clash in distinct contrasts. The sunset in orange is alarming and creates a sense of impending danger. The excitement of the heroine is transmitted to absolutely all the details.
Heroes are depicted according to the norms of classicism. Suffering never disfigures. The poses are elegant and majestic. One gets the full impression that we have characters from the times of antiquity.
Poussin was able to portray the complete tragedy of the scene with the help of simple and strict artistic forms. This conciseness is striking in its greatness.
The artist was inspired by the act of Erminia, his incredible beauty and harmonious plot.