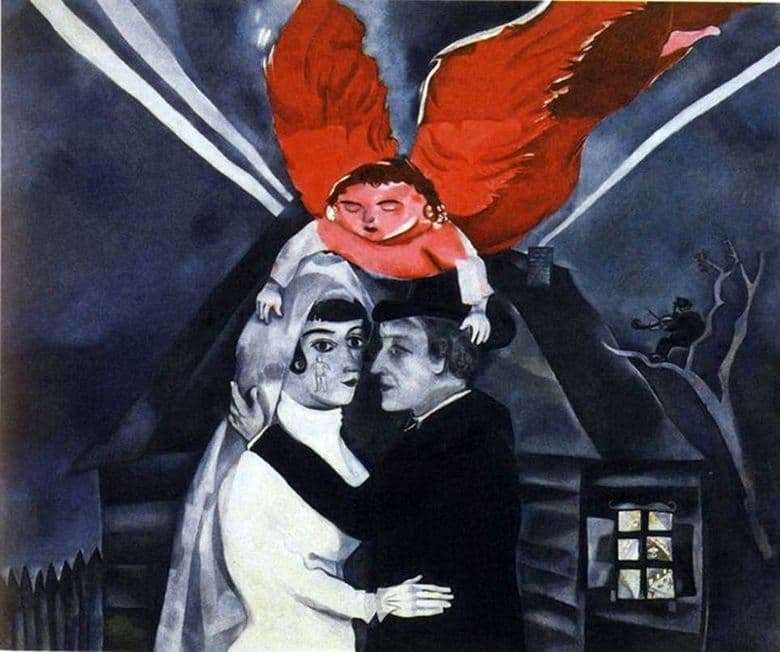 The style of Marc Chagall is so unusual that it is difficult to attribute it to some basic direction of painting. According to the artist's style, the work breathes a fabulous atmosphere, the details of the characters' surroundings are carefully drawn.
In the painting "Wedding" we can see a couple of lovers standing in front of their home. The girl is dressed in a white wedding dress, and her hair is covered with a veil. The black-haired bride's gaze is direct to the viewer, and her white-gloved hand gently hugs the groom by the waist. On the right cheek of a woman one can see the silhouette of a baby, which indicates that the bride either dreams of the baby, or is already carrying it. The groom is depicted in a black suit and hat. The left hand of a man strokes the veil of the bride, and the face, turned in profile, expresses infinite love to his wife. His gaze is directed directly to his beloved.
Over a pair of lovers depicts a plump angel with bright red wings and a dress. Since the overall color palette of the work consists of dark blue, black, gray and white flowers, this character stands out most strongly against the background of other characters. Angel holds the union of the newlyweds from heaven.
In the background you can see a wooden house, whose window attracts more attention. Light emanates from it, and various dishes and a festive atmosphere can be seen from the distance: everything is ready for the meeting of the young bride and groom! On the tree near the house one can see the dark figure of a violinist playing a wedding motif. The abundance of the components of white color emphasizes the fabulous atmosphere and the purity of the holiday, fastening the love union of two people.