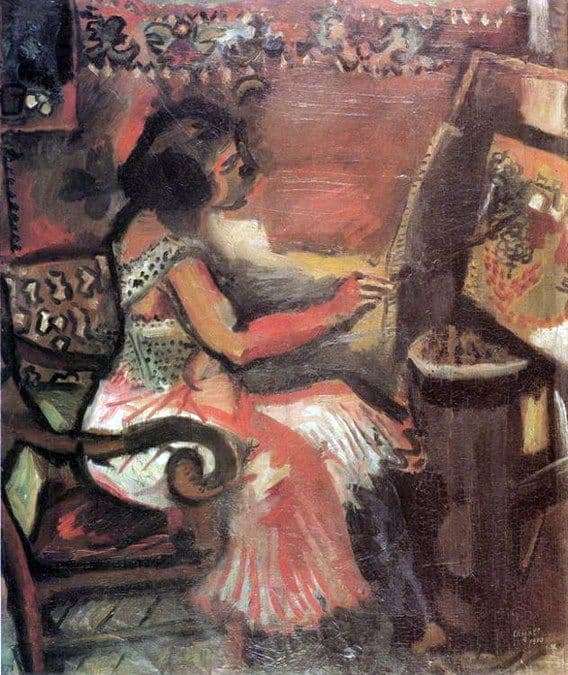 M. Shagal painted the picture "Model" in 1910. During this period, he already lived in Paris and began to work in the direction of Cubism. The style of the painting is different from the inherent surrealism of the artist. On the canvas depicts a girl painting a picture. She is enthusiastically busy with her business. Equip a lady elegantly and in the latest Parisian fashion of the time.
The decoration of the room is difficult to make out, but the carpet on the wall is visible with an ornament characteristic of Russian folklore. Perhaps in this way, the artist pays tribute to his homeland. Although it is difficult to consider the situation to the smallest detail, nevertheless the lady is financially secured, the image breathes chic and luxury.
Drawing at that time was a rare occupation for a woman, and the lessons of this kind of hobby were expensive. Hence, the model was provided, such a festive outfit for her was everyday. The girl is relaxed and breathes calm from her pose. Not so calm colors. M. Shagal's favorite colors were red and green. All this work is done in red shades, which indicates the pain of the artist. This color was associated with his birthday. Even as a child, living in Vitebsk, a little boy witnessed a terrible fire.
Then the child was saved by a miracle, but since then the artist signaled danger and alarm in red. Apparently he was restless, because just at that time M. Shagal had just moved to France from Petersburg. The overall impression of the picture is sad. The features of the girl's face can not be disassembled. It seems that the author himself could not imagine exactly how his model should look. Maybe the artist wanted to refine the picture later.
Brightly highlighted hand dark colors, it focuses all the attention of the beholder. Apparently the occupation of the girl, namely her skill, is of great importance in the work. Maybe this is exactly how M. Shagal imagined his model of creativity, alarming, but talented.