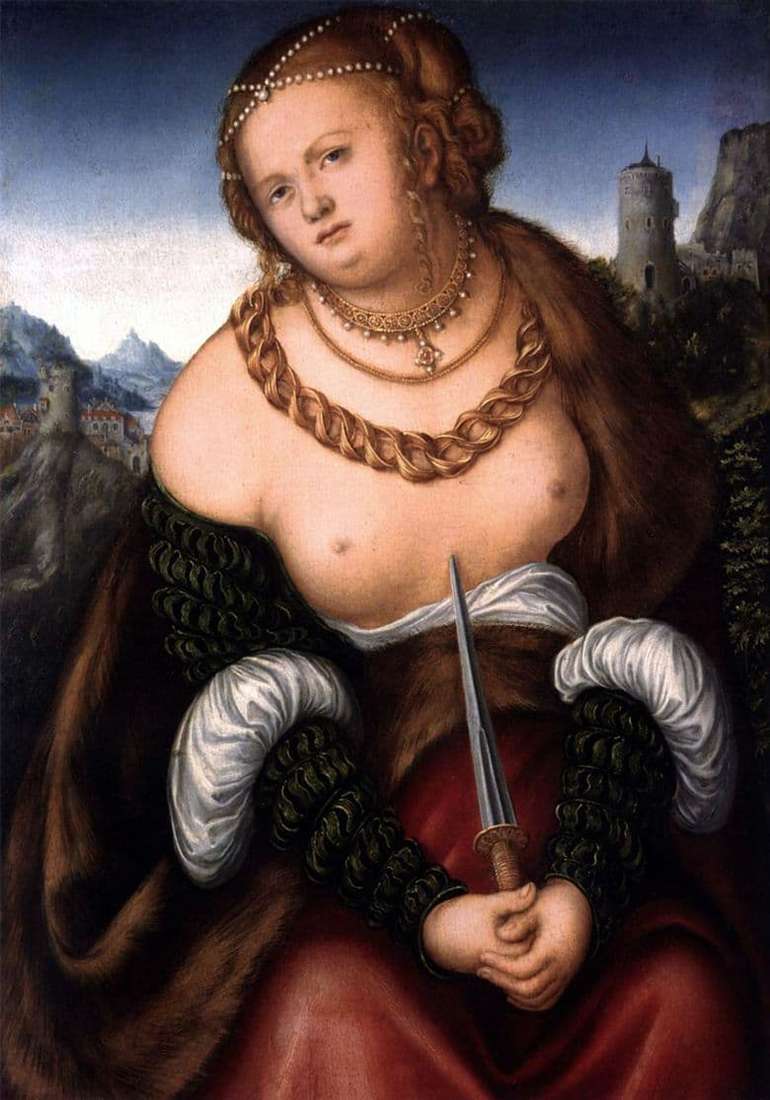 Antique scenes were very popular in Germany during the Renaissance. The basis for the plot of the canvas of the great painter was the events associated with the legendary Roman heroine – the beautiful Lucretia, the moral wife of the patrician, raped by the king's son and unable to survive the shame and humiliation. The artist has created more than 30 paintings on this topic. Titian and Botticelli, Veronese and Rembrandt addressed this story.
Cranach inspired the scene prior to suicide. In the picture, the figure of Lucrezia is half-dressed: a beautiful bare chest is visible. The beauty inexpressibly squeezes the dagger in her hand, directing it to her heart. The beautiful gaze of the almond-shaped eyes is saddened and thoughtful, but her face is calm: she has already made her choice. On some canvases visible drops of blood protruding from under the blade are in harmony with the brocade of the decoration of a proud woman, who decided to take the last step.
The shimmer of precious jewels and the draping of luxurious robes are superbly conveyed. By the way, clothes on Cranach's canvases often look much more attractive than the faces of the characters, which resemble patterned masks. The bends of silk fabric, folds of costumes, trimmed with ribbons and pearls, have a unique expressiveness. Also beautiful and embossed beautiful female hands and shoulders.
Even the body, devoid of clothing, draped with rich ornaments. Diligently combed hair, which falls on a shoulder, weaves pearls, a gracefully curved neck is lined with rows of beads and a necklace. Often Cranach uses transparent fabrics for draping the female body, enveloping the figures of heroines like haze. With this technique, he achieves an incredible effect in the image of a woman at the same time dressed and undressed. All these methods allow you to show the heroine at a turning point in her life journey – on the verge of life and death.