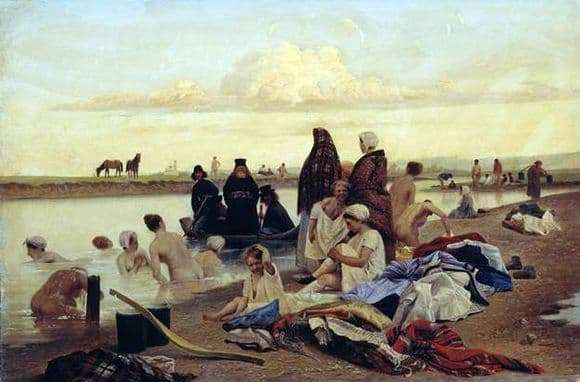 Voronezh Lev Solovyov is not particularly known to a wide audience, only great art lovers and artists know him, and even that is not all. However, this work is familiar to many.
Only now its author Solovyov is undeservedly forgotten, and if it were not for Repin and not one curious error, no one would have known about it… The fact is that, by a strange coincidence, the picture was attributed to the hand of Ilya Repin, and even by another name – "sailed".
Hence the famous "Repin's painting – sailed!" – when it gets into awkward, embarrassing, anecdotal situations. Most likely, the work of Solovyov at some exhibition hung next to Repinsky canvases, and someone in the confusion confused, "inventing" the name "Sailed" by analogy with Repin's famous painting "We did not wait."
In the meantime, as already mentioned, "Monks" belong to the brush of Lev Solovyov, who was better known as an icon painter.
The canvas in Ukraine today illustrates the river lying in the mist somewhere on the outskirts of some village. The visibility is terrible, therefore, the monks, who held the path clearly not in this region (the monks after all!), Swim into the women's bathhouse. Here a lot of naked rural women wash, bathe and put themselves in order. It's time for the monks to say: "Well, Repin's picture has arrived!"
But the most interesting and funny thing here is that the monks do not even bother to turn away with the words "oh, what a shame, God bless you!", They look at the naked bodies of the ladies without embarrassment and embarrassment. Here you have the diabolical temptation-obsession!
However, dear viewers of us, too, "catch" on this indecent looking at washing up young ladies: yes, the very two children who, smiling and laughing, look at the viewer, the only ones from the whole picture.
It is also interesting to look at how different the reactions of women are: here is confusion, fear, and indifference, and laughter…