Description of the painting by Kuzma Petrov-Vodkin "Cafe"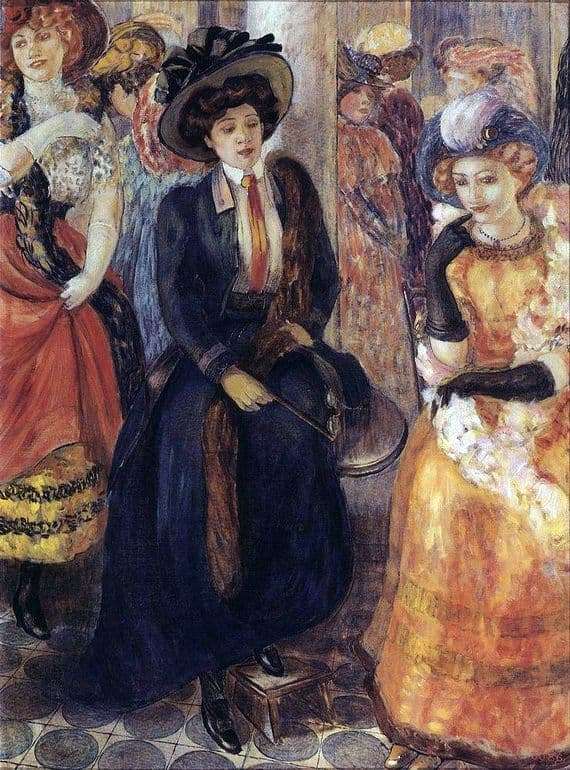 The painting was created in 1907 in oil on canvas.
Petrov-Vodkin is a Russian painter who created many works included in the country's cultural heritage. His fate was quite happy. Born in the family of an ordinary shoemaker, nothing foreshadowed the unusual development of his fate. But the propensity for creativity gave about itself and know. The once simple guy from the shoemaker's family began to study in the best European workshops from renowned craftsmen. His works occupied a special position in the art of our country.
Petrov-Vodkin is one of those artists whose works did not coincide with the generally accepted work of that time. But this does not mean that his canvases were not perceived and were alien. The work of Petrov-Vodkin complements the cultural heritage of our country. He is the author of the well-known work "Bathing the Red Horse" and many others. He was a master of portrait genre.
Also Petrov-Vodkin wrote literary works.
In 1895 he left his native Volga monastery in St. Petersburg to study painting. He graduated in 1904. But during this time, Petrov-Vodkin visited several European countries, where he was influenced by symbolism. Then a number of his canvases come out.
One of which is "Cafe". It depicts noble ladies who have decided to spend their leisure time culturally. All of them are dressed in luxurious dresses in accordance with the fashion trends of the time. Most of all, the viewer is attracted by three of them.
In the center of the canvas is a lady of about 35, she is dressed in a strict but elegant dress. To dilute the severity of the image helps her puffy hat. In the right part is a lady in brighter and more magnificent clothes, she is thinking about something.
On the left side of the canvas is a very attractive, young and cheerful girl. Ladies spend their time in a cafe. In the background, the figures are not clearly visible, but one of the girls stands out among them, who looks at the local handsomely as if with envy.
The work was written at the beginning of the development of Petrov-Vodkin's career, but from it we can understand how talented the aspiring artist was.
The picture is in a private collection.





(
1
votes, average:
5.00
out of 5)
Description of the painting by Kuzma Petrov-Vodkin "Cafe"